Daytona Beach Notary Public and Assistance with Florida Apostilles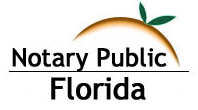 Do you ever ask, "is there a Daytona Notary Public near me?"   Here's your answer:  Florida Document Specialists provides a Daytona Beach Notary Public in their Daytona Beach office, and their notarial services are available to the general public subject to availability.  Please call first to make sure a Daytona Beach Notary Public is available or to make an appointment. We have a comfortable conference room to conduct business.
Daytona Beach Notary Fees
$10 for the first notarization stamp and $5 for each additional notarization.
FREE NOTARIZATION for Law Enforcement, Fire/EMS, Dispatch/911, Active Duty Military/Current Guard and Reserve.  Thank you for your service.
Notaries are authorized by law to perform six basic duties:
Administer Oaths or Affirmations
Take Acknowledgments
Attest to Photocopies of Certain Documents
Solemnize Marriage
Verify Vehicle Identification Numbers  (VINs)
Certify the Contents of a Safe-Deposit Box.
What is a Florida Apostille?
An apostille is authentication of a public document in a foreign country.  A public document is a document issued by an elected or appointed public official or has been notarized.  The apostille certifies the authenticity of the issuing official or notary public's signature.
Examples
Marriage License
Certificate of Death
School Transcripts
High School Diplomas
Vehicle Titles
Adoption Records
Criminal Background Checks
Court Documents
The only competent authority in Florida to issue an Apostille is the Florida Department of State.
If you need a document apostille in the Daytona Beach area, we can handle the process for you. 
Our services include:
Making Attested Photocopies of Your Eligible Documents
Producing the Notarial Certifications
Completion of  the Florida Application for Apostille Paperwork
Priority Mail Service Outbound and Return
If you want to learn more about Authentications (Florida Apostilles and Notarial Certifications), please visit the Florida Department of State's Apostille web-page.