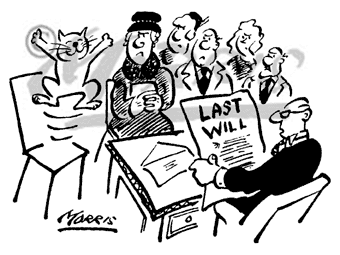 No.  You can make your own will in Florida.
You may want to consult with a licensed attorney in certain situations.
Our fee for preparing your will according to your wishes is $149.
If you come to our office, we will provide two witnesses and a notary public.  You will leave with a fully executed will.
If you are not local to the Daytona Beach area, we can prepare your will and deliver it to you by US mail, email, or both.
No, in most situations.
A trust may be used in addition to a will. This is because a trust can handle only the property that has been put into it.  Any property of yours that is not placed in the trust either during life or at death in most instances escapes the control of the trust.
It is the will that controls all property in your name at the time of death if the will is drafted properly. Trusts can be helpful to speed administration and save taxes if they are drafted properly and funded during life with the property intended to be transferred by the trust.
Often, however, improperly drafted or incorrectly funded or administered trusts can add to the cost of settling estates, not lower it. Furthermore, it is the probate of the will that can clear creditors' claims, which is not possible with just a trust administration.
Florida Document Specialists does not prepare trusts.
If you depart this world without a will (this is called dying "intestate"), your property will be distributed to your heirs according to Florida  intestacy laws instead of being distributed according to your wishes.
Intestacy laws give your property to your closest relatives starting with your spouse and children.
Some people think that the government gets your property if you die without a will, but that's very unlikely unless you have absolutely no heirs at all.
When you die without a will, the court can appoint a personal representative that is unknown to you to manage the distribution of your property.  The cost of probating your estate may be higher than if you had left a will, and the court may decide that the distribution of your property requires greater oversight or supervision.
A will acts as a road map for the court to follow in authorizing the distribution of your assets.  Wills are good.  You should probably have a will.
Sure.
Your family or heirs (or both) can contest or challenge the validity of your will based on things such as duress, undue influence, defective execution, fraud, forgery, or even simple mistakes.
We live in a litigious society.
If you're concerned about someone contesting the validity of your will, you should probably consult with a probate attorney for legal advice.
The most common situations where wills are contested usually involve suspicious behavior or circumstances.  For example, if an elderly man starts dating a younger woman and then suddenly disinherits all of his children, or if a senior citizen with dementia suddenly executes a will and leaves her entire estate to her new home health aide.  Thing like this can set the stage to dispute a will.
No.  There is no requirement that you record your last will and testament with the court.
Recording your will is not the same thing as "depositing" your will.
You will not be able to deposit your will, because you will no longer be among the living.
Your last will and testament must be deposited with the Clerk of Court in the county where you lived within 10-days after your death.
Keep your will in a safe place, and make sure that your personal representative (executor) knows where it is.  Some people choose to keep their Wills in a safe deposit box.
Yes.  A person must have attained the age of majority (18 years of age) or be an emancipated minor in order to execute a last will and testament in Florida.
A self-proving will in Florida is a last will and testament that is created in a way that allows a probate court to easily accept it as the true will of the person who has died. The person making the will and two witnesses must sign an affidavit (a sworn statement) in front of a Florida notary public certifying that the will is genuine and that all willmaking formalities were observed.
The witnesses chosen by the willmaker don't have to read the will, but they must both sign it at the time the will is executed, after the willmaker has signed it, and in the presence of the willmaker and each other.  The notary public will observe this entire process and will administer an oath prior to notarizing the will.
If no one contests the validity of a will that is self-proving, the probate court will accept the will without hearing the testimony of the witnesses or other evidence.
Yes, there are various types of wills, but Florida Document Specialists only assists with the preparation of a self-proving "attested wills", which are the most common type of last will and testament executed in Florida.
An "attested" last will and testament is a writing (a written document), that is signed by the person making the will in the presence of two witnesses.  In order for the will to be "self proving", the person making the will (The Testator or Testatrix) must sign the will in the presence of the two witnesses, and all three of them must sign the will in the presence of a notary public.
If a last will and testament is not "self-proving", it will most likely be rejected and will not be admitted to probate.
There are other types of wills.  Here are brief descriptions:
Military Will
This type of will is executed in accordance with Federal Law.  They are very formal, like attested wills, and they are valid in the State of Florida.
Holographic Will
This is a fancy word for a writing that is signed by the person making the will but does not contain the signatures of witnesses.  Handwritten wills of this type are not recognized in Florida.  That is not to say that a valid will cannot be handwritten if the format and execution follows the rules.
Oral Will
An "oral will" is a phrase used when a person verbally tells another person how they want their estate devised upon their death.  An oral will is not valid in Florida.
Will from States Other than Florida (Out of State Wills)
Wills executed in states other than Florida are valid depending on certain factors.  If the last will and testament is in written form and is valid in the jurisdiction where it was executed, it will probably be valid in Florida even though it does not strictly meet the Florida requirements.
Florida Last Will and Testament
We get this question a lot, because the Internet is flooded with websites that offer downloads of generic "Last Will and Testament" forms, and every office supply store seems to have "Will Kits" for sale.
We will type a type a custom last will and testament for you according to your wishes, we do not sell blank forms.  You will work closely with a document specialist as your will is created.
Your will will be prepared in a modern format conforming to Florida requirements, and it will contain "self-proving" language.
Here is an example of cookie cutter legal forms, including forms for last will and testament, for sale at your local office supply store.