Florida Electronic Wills: Tailored Solutions for Individuals and Couples
Maximize Value and Secure Your Legacy: Comprehensive Electronic Will Packages That Make the Most of Your Investment
Estate planning is a crucial step for securing your future and that of your loved ones. But let's be real, the high cost associated with executing electronic wills in Florida, largely due to the need for Qualified Custodian services, has made eWills less appealing for many.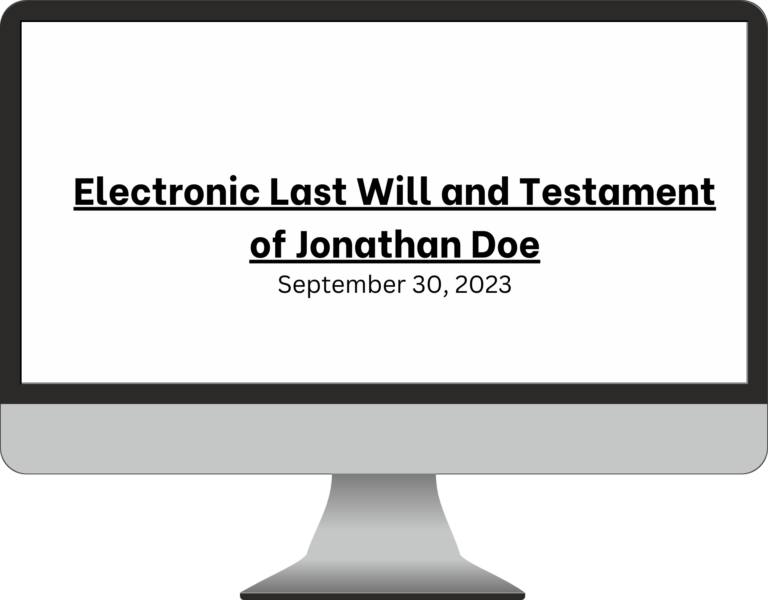 We get it, and that's why we've gone the extra mile to provide you with an all-inclusive, legally compliant eWill package that offers unparalleled value.
By choosing our eWill package, not only do you benefit from our expertise as one of Florida's few qualified custodians, but you also gain access to additional estate planning tools—at substantial discounts or even for free! For a limited time, our eWill package comes with a free Durable Power of Attorney, fully drafted and notarized—a $190 value, at no extra cost to you!
And we didn't stop there. Recognizing that a well-rounded estate plan often needs more than just a will, we're offering discounted rates on essential documents like Advance Directives, HIPAA Waivers, and Lady Bird Deeds, when you bundle them with your eWill.
To make this even sweeter, if you're planning for the future as a couple, we offer significant discounts on a spouse's eWill package. It's our way of making sure that both of you can have peace of mind, without feeling the pinch in your pocket.
So why wait? Get started today to secure a future that is not only well planned but also wisely invested. After all, smart planning doesn't have to be expensive; it just needs to be smart!
Florida Electronic Will Package
Your All-Inclusive Solution for Creating, Notarizing, and Storing Florida Electronic Wills
Custom Drafting of Your Self-Proving Florida Electronic Will

Lifetime Qualified Custodian Services

Online Notarization with Two Witnesses

Certified Laser-Printed Copy

Custom Cloud Download Link
Couples' Florida Electronic Will Package
All-Inclusive Couples' Solution: Create, Notarize, and Store Two Florida E-Wills
Two Custom-Drafted, Self-Proving Florida Electronic Wills

Lifetime Qualified Custodian Services for Both Wills

Two Online Notarizations with Two Witnesses Each

Two Certified Laser-Printed Copies

Two Custom Cloud Download Links
Durable Power of Attorney — FREE ($190 Value)
Includes drafting the durable power of attorney documents and online notarization with two witnesses.
Yes, you read that right: Absolutely, 100% FREE for a limited time!
Hold the phone! FREE? As in, zero dollars? No hidden fees? You betcha! We're not pulling a fast one on you—this is the real deal. A $190 value, yours for the unbeatable price of zilch, nada, nothing! We promise you, there's no catch, except maybe the joy of knowing you've secured your future and potentially saved yourself a heap of trouble down the road.
So what's a Durable Power of Attorney, you ask? Imagine having a superhero sidekick who swoops in to handle your financial, legal, and healthcare decisions if you're ever unable to. That's essentially what this legal document does. Our ace team will tailor this power-packed document to your specific needs, ensuring that the right person steps in to protect your interests when you can't.
Remember, this isn't a "one size fits all" situation. We carefully draft your durable power of attorney and even throw in online notarization with two witnesses (talk about a two-for-one deal!). Secure your future now with this limited-time offer, because let's face it, free never looked so good!
Advance Directive —

$39  ($164 Value)
Includes drafting the document, online notarization, and two witnesses. Special Rate, No Mistake!
We know what you're thinking: "$39 for an Advance Directive that normally costs $164? What's the catch?" Rest assured, there's no catch here—this is genuinely a rare opportunity to prepare for the future without breaking the bank.
An Advance Directive isn't just a piece of paper; it's your voice when you may not have one. Comprising both a living will and a designation of healthcare surrogate, this critical document allows you to set down your medical treatment preferences in clear terms. Should a time come when you're unable to express these wishes, you'll have the peace of mind knowing you've prearranged your choices and appointed a trusted individual to honor them.
It's a sensitive topic, indeed, but also an indispensable one. For a nominal fee, we'll professionally draft your Advance Directive, provide online notarization, and even include two witnesses to make it official. Considering the peace of mind and clarity it offers to you and your loved ones, it's a value that's hard to put a price on. But for now, that price is just $39. Make the wise choice; plan ahead.
Lady Bird Deed —

$159  ($274 Value)
Includes drafating the deed, online notarization, eRecording, and county recording fees.
That's right, folks, you're reading it correctly—$159 (when bundled with an eWill package) for a $274 value! And no, it's not a typo, nor is it an early April Fools' joke. It's an unbeatable deal on a Florida Enhanced Life Estate Deed, affectionately known as a Lady Bird Deed. This savvy legal instrument allows you to transfer ownership of your home or property automatically upon your passing, bypassing the time-consuming and often expensive probate process.
So why is it called a Lady Bird Deed, you ask? No, it's not named after a pet bird who inherited a fortune, though that would be quite a tale!  It was actually named after Lady Bird Johnson, and it's a popular way to ensure that your home or property effortlessly changes hands when you're no longer around, without losing any control over it while you're still here. Yes, you can have your cake and eat it too, or in this case, live in your house and pass it on smoothly!
So for a one-time payment of just $159, you're not only buying peace of mind but also gifting it to your loved ones for the days when it'll matter most. And let's not forget, this amazing package includes all the heavy lifting: drafting the deed, specialized online notarization—done by true experts in the field, we might add—eRecording, and even those pesky county recording fees. A real bargain, if you ask us!
HIPPA Waiver —

$25  ($114 Value)
Includes drafting the docuument, online notarization, and two witnesses.
This is No Joke: Don't Let HIPAA Hold You Hostage!
You might be scratching your head, thinking, "$25 for a HIPAA Waiver that's valued at $114? Seriously?" Yes, you read that right. And this isn't just about the bargain; it's about freeing you from the bureaucratic tangles that HIPAA can sometimes create.
Imagine this: You're in an emergency medical situation, or maybe you're juggling appointments with multiple healthcare providers. The last thing you want is to hit a wall of silence where your close family members or friends can't access crucial medical information or consult with your doctors. Trust us, HIPAA's privacy rules mean well, but they can turn simple conversations into red tape nightmares.
Due to HIPAA regulations, healthcare providers are severely restricted in sharing your medical information—even with people you'd want in the loop! It can be agonizingly frustrating for both you and your loved ones in already stressful situations. "Sorry, we can't disclose any information" becomes an exasperating refrain that you don't want to hear when seconds count or when you're trying to coordinate medical care.
A HIPAA Waiver, properly drafted and notarized, cuts through this. It grants permission for designated individuals to have access to your medical records and to speak freely with your healthcare providers. This document takes the handcuffs off communication and puts you back in control.
So, for a mere $25, we'll draft your HIPAA Waiver, complete the online notarization, and provide two witnesses to make sure it's all above board. With stakes this high and a process this simple, there's no reason not to secure this peace of mind for you and your family. Get your HIPAA Waiver in place and say goodbye to unnecessary communication barriers.
Your All-Inclusive Guide to Crafting and Executing Electronic Wills in Florida
Hello and welcome! The world of electronic wills (eWills) is complex but incredibly fascinating. We're delighted to help guide you through the nuances of creating a digital testament that meets legal standards in the state of Florida.
Separating Wheat from Chaff: What an Electronic WIll Is Not
"Electronic" Wills Online: A Misleading Concept
Beware, not everything advertised as an "electronic will" truly is one. Some online services offer paper will templates that you download, misleadingly labeling them as "eWills." What we offer is a legitimate eWill—a legally compliant document that is created, signed, and stored completely online, in line with Florida's rigorous eWill legislation.
The Pitfalls of Downloadable Will Templates
The Shortcomings of Templates
Downloading a will template may seem like a cost-effective solution, but it can present complications. These templates often lack the necessary language to designate a "Qualified Custodian of Electronic Wills," which is a legal requirement in Florida. While we're not lawyers, we prepare your eWill based on your answers to our detailed questionnaire. The responsibility for the content and its legal integrity remains yours. Should you have any doubts, a qualified attorney can provide additional guidance.
Quality Concerns with Template-based Wills
Templates can also result in a cluttered, less polished document, especially when it comes to self-proving affidavits. These critical elements often have to be edited, leading to back-and-forths that could have been avoided. Our personalized drafting service takes your unique circumstances into account, producing a cleaner and more professional document. Human experts handle revisions, making the process more seamless for you.
Crafting a Legitimate Florida Electronic Will: Key Components
Meeting Legal Requirements
In Florida, a true Electronic Will must meet specific criteria: the testator's electronic signature, the designation of a qualified custodian, and compliance with online notarization protocols. When you opt for our service, you can be confident that your eWill ticks all these boxes.
Online Notarization: Our Expertise
Online notarization is a specialized procedure, especially for wills. We provide a secure platform that adheres to all legal requirements. Our notaries are highly trained, ensuring that your will undergoes the formal ceremony necessary for legal validation.
The Gold Standard: Self-Proving Electronic Wills in Florida
The Significance of 'Self-Proving'
In Florida, a self-proving eWill must meet two key criteria: First, it must designate a "Qualified Custodian of Electronic Will," and second, it must include a self-proving affidavit—a notarized document that verifies the will's authenticity. These essential elements make the probate process significantly smoother. As one of Florida's limited number of qualified custodians, we seamlessly integrate this crucial self-proving affidavit into your eWill, guaranteeing it is both legally compliant and self-proving.
Tailoring Your Electronic Will: Why Customization Matters
Flexibility and Personalization
Life changes, and your eWill should be able to adapt. With our service, you can revise your eWill whenever life events dictate a change. Since we prepare the document based on your answers, you have complete control over its content.
Final Thoughts and Recommendations
Revisions and Legal Counsel
Your electronic will isn't set in stone. You have the freedom to revise it as needed. However, for ultimate peace of mind, it's a good idea to have your eWill reviewed by a qualified attorney if you have any questions or doubts.
Revisions and Legal Counsel
Although a self-proving electronic will simplifies the probate process, it doesn't eliminate the need for it. A well-crafted eWill, however, can make this often complicated process much more manageable.
We hope this comprehensive guide to electronic wills in Florida has been enlightening! We look forward to assisting you in securing your digital legacy in a legally compliant way. Thank you for entrusting us with this important task.
Already Have Your Documents? No Problem! Utilize Our Expert Online Notarization and Custodian Services
Online Notariation Only
Notarization & Custodian Services for Customer Supplied eWills
You or Your Attorney Supply the Documents

Online Notarization with Two Witnesses

Lifetime Qualified Custodian Services

Notarize Additional Documents for $25 Each

Certified Laser-Printed Copy

Custom Cloud Download Link

Half-Price for Couples - $540
Frequently Asked Questions FAQ
Are electronic wills legal in Florida?

On June 7, 2019, Florida Governor DeSantis signed the Florida Electronic Wills Act. This act allowed for the electronic signing, witnessing, and notarization of wills and other estate planning documents.

It has been lawful to execute an electronic will by online notarization since July 1, 2020.

Are Florida Electronic Wills (eWills) Self-Proving?

What are the Florida laws concerning online wills, online notarization, and qualified custodians?

Can Florida attorneys use your notary and custodian services for their clients?

Most certainly.

We've spoken with many attorneys about executing estate planning documents via remote online notarization.   We're up and running and available to your practice.

We'd love to speak with you.  Please call 386-256-5540.

What are the benefits of an electronic will?

The following is an overview of creating and executing a will online, including some potential benefits and limitations to consider.

One significant advantage of creating a will online is the convenience factor. By using an online service, you can complete the process from the comfort of your own home, without needing to find a traditional notary public or witnesses. Additionally, many businesses that offer notary services, such as UPS, AMSCOT, or your bank, may not notarize wills, making online options more accessible.

Another potential benefit of online wills is the video recording of the will execution process. This video can serve as evidence of your intentions if anyone ever contests your will's validity.

Additionally, online wills may eliminate the risk of losing your will. Most online services provide a certified paper copy, but they also store an electronic version of your will in secure backup systems, ensuring you always have access to a copy.

Finally, creating a will online may be a safer option during the COVID-19 pandemic, as it allows you to complete the process without leaving your home.

It's important to keep in mind that laws around electronic wills and their validity can vary by location, so it's essential to ensure that any online service you use is compliant with the laws in your area. Additionally, it's always a good idea to seek legal advice when creating a will to ensure that your wishes are properly documented and executed.

What are the personal requirements to execute an electronic will in Florida?

Remote Witnesses vs. Witnesses Physically Present

First and foremost, if you intend to use remote witnesses (witnesses not physically in the room with you) you must not be classified as a vulnerable adult.  If the signer is a vulnerable adult, then the electronic will (and any other testamentary documents), may not be executed by remote online notarization with remote witnesses.  If you have qualified witnesses physically present with you, the electronic will is back in play.

Florida considers a vulnerable adult as:

"a person 18 years of age or older whose ability to perform the normal activities of daily living or to provide for his or her own care or protection is impaired due to a mental, emotional, sensory, long-term physical, or developmental disability or dysfunction, or brain damage, or the infirmities of aging."

If you are dishonest with your online notary, and it is later found that you were a vulnerable adult when you executed your electronic will, it will not be valid.

General Requirements for Executing an Electronic Will

Testamentary Capacity

Florida law requires that the testator exhibit a minimum level of capacity in order to execute a valid will. Section 732.501 of the Florida Probate Code sets a low threshold of capacity and simply provides:  Any person who is of sound mind and who is either 18 or more years of age or an emancipated minor may make a will.

What is "Sound Mind"

Whether one has testamentary capacity is a question determinable only by mental capacity of the testator at the time he executed his will. The making of a will does not depend upon a sound body but upon a sound mind.   The term, "sound mind", means the ability of the testator "to mentally understand in a general way the nature and extent of the property to be disposed of, and the testator's relation to those who would naturally claim a substantial benefit from the will, as well as a general understanding of the practical effect of the will as executed."   In re Wilmott's Estate, Fla. 1953, 66 So.2d 465, 467, 40 A.L.R.2d 1399; Newman v. Smith, 1919, 77 Fla. 633, 82 So. 236, 241; Hamilton v. Morgan, 1927, 93 Fla. 311, 112 So. 80; and Neal v. Harrington, 1947, 159 Fla. 381, 31 So.2d 391.

Method of Execution

In order for a will to be valid in Florida, it must conform with the execution requirements set forth in the Florida Probate Code. Pursuant to Section 732.502 of the Florida Probate Code, a will must be in writing and must be signed by the testator at the end of the document.  The testator will sign the electronic will by pushing a button under the supervision of a qualified notary public.

The testator's execution of the will must be witnessed by at least two attesting witnesses who also must sign the will in the presence of the testator and in the presence of each other.

Undue Influence

The signer of an electronic will in Florida must be free from all undue influence.  Undue influence can be described when the testator (the person signing the will, the "testator"), is induced to act contrary to their own wishes.  The provisions in the will are actually another person's wishes, not actually that of the testator.  If it is later proved that a testator signed his or her will under undue influence, the will could be made invalid.

If you are concerned about undue influence, you are encouraged to speak with a licensed Florida attorney prior to executing your will.

Some factors that could be considered undue influence are:

Was the alleged undue influencer present when the will was signed?
Was the alleged undue influencer present when the testator expressed a desire to make a will?
Did the alleged undue influencer recommend the lawyer that drafted the will?
Did the alleged undue influence know what the will said before it was signed?
Did the alleged undue influencer give the lawyer instructions on preparing the will?
Did the alleged undue influencer pick the witnesses of the will?
Did the alleges undue influencer keep the will after it was signed?

Can I execute my electronic will if I'm in a nursing home or an assisted living facility?

Maybe.  If you have two witnesses physically present with you during the online notary session, you can execute an electronic will.

Although we completely understand that persons in nursing homes and assisted living facilities would benefit from remote online notarization, Florida law prohibits the online notarization of testamentary documents with remote witnesses by those considered to be, "vulnerable adults".  One of the definitions of a vulnerable adult is a person who requires assistance with their day-to-day care.

We would also like to make clear that the discretion of our online notaries public is final in deciding whether or not to continue with an online notarization of a testamentary document.

Can a paper copy of an electronic will be admitted to probate?

Yes.

A paper copy of an electronic will which is certified by a notary public to be a true and correct copy of the electronic will may be offered for and admitted to probate and shall constitute an original of the electronic will.

Florida Document Specialists provides a laser printed copy of the executed electronic will to each customer along with an original notarial certification.  This is mailed to the customer by USPS Priority Mail (with tracking number), within 72 hours of the execution of the electronic will.  This service is included in the package price.

What if I want to revoke, destroy, or cancel my electronic will?

Revoking a Will Under Florida Law

An electronic will or codicil is revoked by the testator, or some other person in the testator's presence and at the testator's direction, by deleting, canceling, rendering unreadable, or obliterating the electronic will or codicil, with the intent, and for the purpose, of revocation, as proved by clear and convincing evidence.

Contact Florida Document Specialists for assistance.

We have a procedure in place to completely destroy the electronic will documents in our possession upon your verified, written request.

You should always keep a copy of the "Reference Number" that was assigned to your electronic will.

How does the court get my electronic will when I die?

Florida Statute 732.901 directs that the custodian of a last will and testament must deposit the will with the clerk of court having venue of the estate of the decedent within 10 days after receiving information that the testator is dead.

That being said, there are two different ways the "deposit" of your will can be facilitated.

1. As part of our service, you will receive a fully executed copy of your electronic will on paper, along with an original notarized certificate from the qualified will custodian certifying the copy to be an authentic and unaltered copy of the original.  You can keep this paper will in a safe place (as you would a traditional will), and make a responsible person of your choosing aware of it's location.  The court should accept this document as the deposit of the, "original will", since it is an electronically notarized document.  This is the preferred method.

2. If Florida Document Specialists is made aware of the passing of a person whose electronic will is in our custody, we are required by law to deposit the will with the clerk of court having venue of the estate of the decedent within 10 days after receiving information that the testator is dead.  There is no additional charge for this service.

How long will you store my electronic will?

Your electronic will, the electronic notary journal entry, and the audio-video recording of the online notary session, will be retained by Florida Document Specialists until you tell us to destroy it.

Will my electronic will be kept safe and secure?

Secure Cloud Storage

At our company, we offer private cloud storage that ensures the safety and confidentiality of your files. Our system replicates your files across multiple datacenter locations that are certified for their security and reliability, giving you peace of mind. 




Your files are encrypted from end-to-end, which means that they're protected against unauthorized access at all times. You can view or download your files at any time using a link that's available to you 24/7/365. 




We comply with global data privacy regulations to keep your files safe in the cloud. Our system is compliant with USA, EU/UK GDPR, and Canadian data residency laws, ensuring that your files are always stored securely and according to the relevant regulations.

Tamper-Proof Documents and Digital Signatures

When you use Florida Document Specialists to notarize a document, the notary will use digital certificates to ensure that the document is tamper-proof. A digital certificate is a type of electronic document that is issued by a trusted third party, such as a certification authority.

The digital certificate is used to verify the identity of the signer and to create a unique digital signature that is attached to the document. This digital signature acts as a seal of authenticity, indicating that the document has not been altered or tampered with since it was signed.

The digital signature is created using a complex algorithm that generates a unique code that is impossible to replicate. This code is based on the contents of the document, as well as the signer's private key, which is a unique identifier that is known only to the signer.

When the document is signed and the digital signature is attached, the notary will also include a digital certificate that verifies the authenticity of the signature. This certificate is issued by a trusted third party and contains information about the signer, the notary, and the digital signature itself.

The use of digital certificates and signatures ensures that the document is tamper-proof and that it cannot be altered or forged after it has been signed. This provides a high level of security and authenticity for online notarized documents, giving you confidence in their legal validity.

Can any Florida online notary notarize a will online?

No.  Most Florida online notaries do not have the technology or training to execute electronic wills.

Some online notaries are ignorant of the rules and are performing unlawful notarizations of online wills.