Navigating Your Apostille Options: Two Paths for FBI Background Checks
Welcome to our comprehensive guide on securing an apostille for your FBI background check. We recognize the importance and time-sensitivity of this process, whether for travel, work, or other international requirements. In this guide, we'll explain both available options, so you can make an informed decision.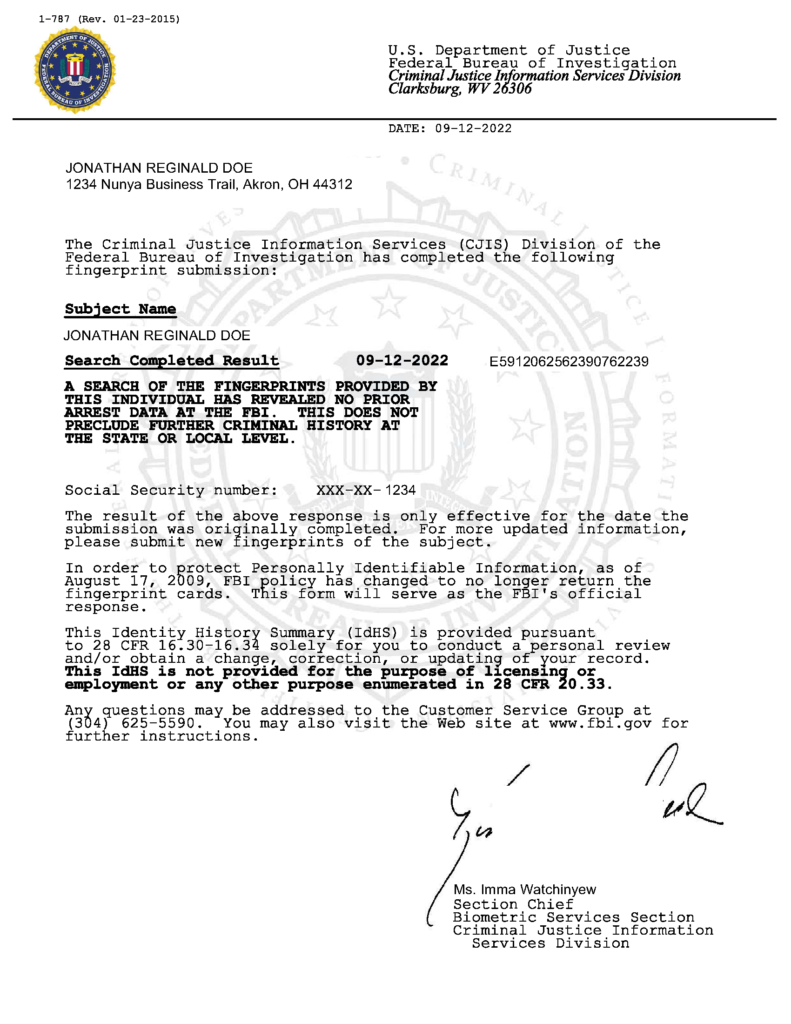 Option 1: U.S. Department of State Apostille
Time: 11-13 weeks
Cost: $135
Process: We'll print out the PDF of your FBI-supplied document and submit it to the U.S. Department of State for apostille processing. Once the apostille is issued, we will mail the finalized documents back to you.
This method has universal acceptance and is recommended for those who have enough time before the document is needed.
Option 2: Washington, D.C. Secretary of State Apostille
Time: 3-4 business days
Cost: $175
Process: We'll print the PDF of your FBI background check that you've obtained from the FBI. Next, we'll present this to a D.C. Notary Public for notarization as a "true copy." After that, we'll submit the notarized document to the D.C. Secretary of State to obtain the Hague Apostille. Finally, we'll ship the apostilled document back to you.
This option is significantly faster but comes with some risks regarding universal acceptance.
Official Statements from D.C. Secretary of State
On August 10, 2023, the D.C. Office of Notary Commissions and Authentications provided guidelines that enabled the notarization of certain federal documents, including FBI background checks.
On September 9, 2023, we reached out to the Washington D.C. Secretary of State via email, seeking a more official statement about the validity of apostilles for FBI background checks using this procedure. Below is the response we received:
Preview an Example of a D.C. Apostille
Curious to see what a D.C. Apostille looks like? We've provided an example below so you can familiarize yourself with its appearance, which differs from apostilles issued by the U.S. Department of State. This example may be useful to show to foreign authorities for verification purposes.
Choosing Between Option 1 and Option 2
Before deciding, consider the following:
How quickly do you need the apostille?
Is the receiving entity familiar with D.C. apostilles?
If time is crucial, consider Option 2.
Always consult with the end-recipient to confirm their acceptance of a D.C. apostille.
Be aware that we offer both services. It is essential to consult the end-recipient and make an informed decision based on your specific needs.
Our Goodwill Guarantee: A Safety Net for Option 2
We understand that choosing Option 2 for apostilling your FBI background check is a new route and that you might have concerns about its acceptance internationally. To provide you with peace of mind, we're introducing a special offer.
The Goodwill Discount on U.S. Department of State Apostilles
If you choose Option 2 (D.C. Secretary of State Apostille) and find that the receiving entity does not accept the apostille, we regret that we cannot offer a refund for this service. However, as a gesture of goodwill, we will provide a significant discount should you decide to revert to Option 1 (U.S. Department of State Apostille).
Notify Us: If you encounter any issues with the acceptance of your D.C. apostille, contact us immediately.

Switch to Option 1: We'll transition your document to undergo the U.S. Department of State apostille process.

Discount Applied: A special discount will be applied to the cost of this service as a goodwill gesture.
Please note that proof of non-acceptance may be required to avail of this discount. Contact our customer service for full details on terms and conditions.
For any more information or clarification, our lines are always open.