How to get an Apostille for an FBI Criminal Background Check
---
If you are reading this, chances are that you have been asked to get an apostille authentication for your FBI criminal background check.
Before you can obtain a federal apostille, you will first need to obtain the FBI background check.  This is sometimes referred to as an Identity History Summary Check or Rap Sheet.
---
How to Order an FBI Criminal History Background Check
First, you will have to get fingerprinted on a standard fingerprint form (FD-1164).  There are many places that offer this service such as sheriff departments and businesses that have Live Scan fingerprinting equipment.
After you have your fingerprints taken, it's just a matter of submitting the application along with the required fees.  Instructions for ordering an FBI background criminal background check can be found on the FBI website.
It doesn't take long to obtain a FBI background check certificate.  You will have the option of receiving the FBI background check certificate electronically by secure download, by regular mail, or both.
---
What is an apostille?
An apostille, simply put, is a cover page.  An apostille serves as the authentication by the U.S. Department of State of the seals and signatures on a document intended for use in a foreign country.
---
Why do I need an apostille for my FBI background check?
There are various reasons why a foreign country may require an apostille for records such an FBI background check.  The most common reasons to apostille an FBI background check are:
You are planning on living or working in a foreign country;
Starting a business in a foreign country;
Getting married in a foreign country (destination weddings);
Adopting children, and
Applying for dual citizenship.
---
Hague and Non-Hague Countries
If the destination country for your apostilled FBI criminal background check is a member of the 1961 Hague Convention, which most countries are, you only need to process the apostille with the U.S. Department of State.  If your FBI document is intended for use in a non-Hague country, like China or the UAE, you will require the additional step of foreign embassy legalization.  This can be a confusing process.  The good news is that we are here to guide you every step of the way.  Make sure you confirm with the foreign authorities exactly what they require.
---
An FBI Criminal Background Check is a Federal Document
This means that the apostille must be issued at the federal level by the U.S. Department of State in Washington DC.  Some people make the mistake of sending a FBI criminal background check to their state's department of state.  Don't do this, it we be returned.  Below is what an FBI criminal background check looks like:
---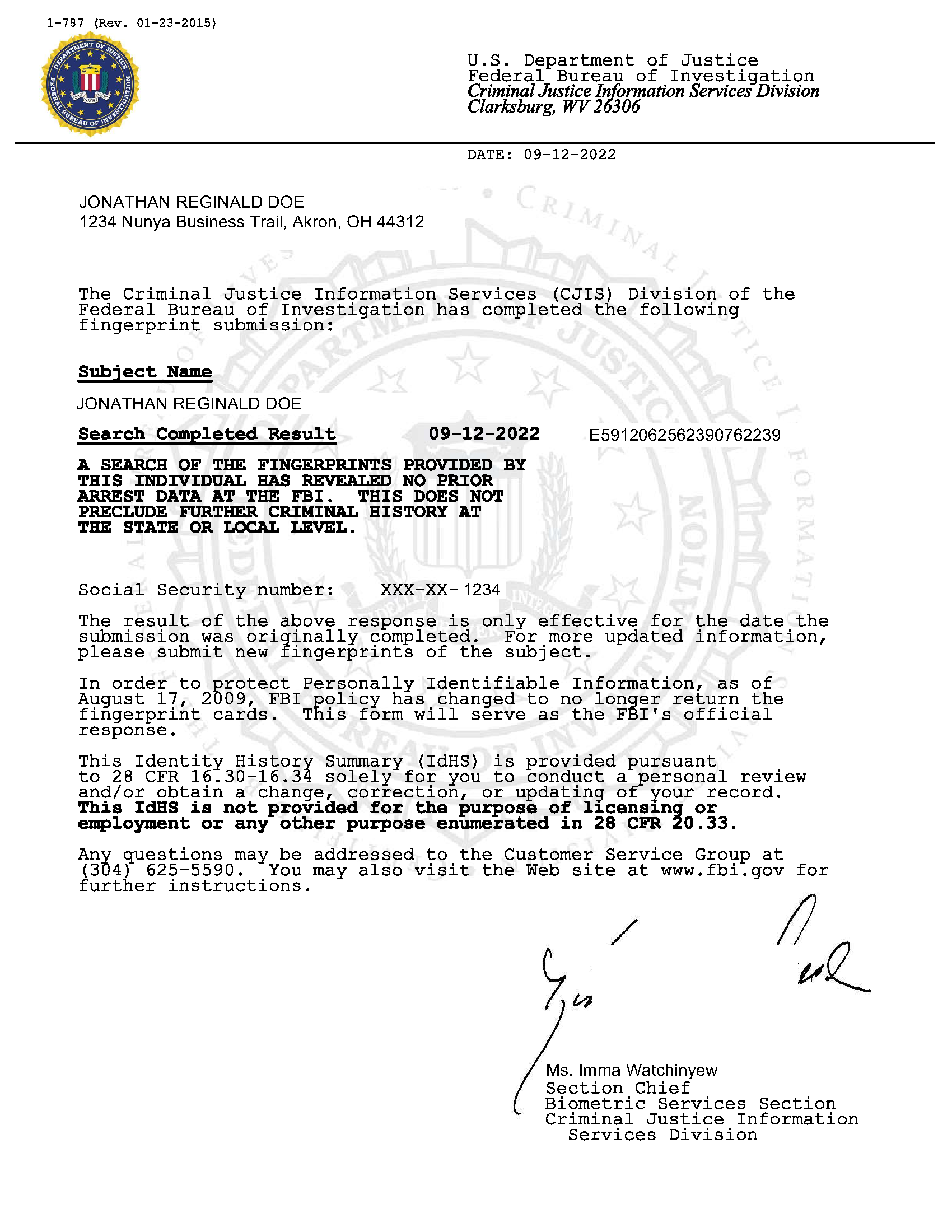 ---
FBI Criminal Background Checks Cannot be Notarized
Don't make the mistake of taking your FBI background check certificate to a notary public to notarize. This will spoil your document, and you will have to download a fresh one or apply for a replacement.
---
How quickly can I receive a federal apostille for my FBI criminal background check?
Unfortunately, there is no way to expedite or rush an apostille for an FBI criminal background check at the current time.  Even though things are back to normal after the COVID 19 pandemic, the U.S. Department of State has decided that they are not ready to resume a pre-pandemic service level.  The current expected wait time is 10-14 weeks.  This page will be updated if the wait time changes or if the U.S. Department of State begins to offer expedited services again.
You should be aware that there are several websites offering RUSH and expedited apostille services for FBI background checks.  There used to be a way to do this pre-pandemic, but there is no way to do this at the current time.  Don't be taken.
---
Translations of FBI Criminal Background Checks and Apostilles
Some countries require certified translations of FBI background checks into a foreign language.    Some countries also require that the apostille cover page itself also be translated.
To further complicate things, other government agencies in foreign countries still require that the translation document receive an apostille.  In this case, a notarized affidavit of translation must be attached to the translated document.
---
Make sure you know what they want!
It a good idea to have a discussion with the destination authorities to make sure you know exactly what they are asking for.  If they need the apostille translated as well as the FBI background check, the translation will have to be made after the U.S. Department of State issues the apostille.
We offer a certified translation service for 100 languages, which includes a notarized affidavit of certified translation which can be apostilled
If you have any other questions regarding the apostille or embassy legalization of FBI criminal background checks, give us a call or send us an email.  It's always our pleasure to help.
Finally, to order an apostille for a FBI criminal background check, you can use this link.