Para ver en Español – Oprima Aquí
---

---
How to get an Apostille for a Florida Birth Certificate
Foreign embassies or consulates often require an apostille or notarial certificate for vital records. Certainly, the most common document that people order apostille certifications for is a Florida Birth Certificate.
---
Why do I need an apostille?
There are various reasons why a foreign country may require that vital records such as a birth certificate receive an apostille certification from the Florida Department of State.  The most common reasons to apostille a Florida birth certificate are:
A U.S. Citizen is about to marry abroad (destination wedding);
Starting a business in a foreign country; or
Applying for dual citizenship.
Notwithstanding how intimidating the process may seem, getting an apostille for a Florida birth certificate versus other documents is easy.  Comparatively, getting the apostille done quickly and correctly is a little more challenging.
---
How do I get an apostille for my Florida birth certificate?
The Florida Department of State is the only designated Competent Authority to issue apostilles in the State of Florida.
To start the process of obtaining an apostille of a birth certificate with the Florida Department of State, you must first obtain a certified copy of the Florida Birth Certificate.  If you need more than one apostille certification, you must have an original birth certificate for each additional apostille that you are requesting.
Equally important to note, the Florida Department of State will only issue an apostille for Florida birth certificates.  Birth certificates from other states must be apostilled in the state of issue.  Birth certificates form other countries must receive an apostille from the country of issue.
---
Make sure your Florida birth certificate is current.
A lot of folks have certified copies of birth certificates that are too old.  Only certified copies of Florida birth certificates signed by the current registrar of the State of Florida, Ken Jones, are eligible for apostille.  If your birth certificate is not signed by Ken Jones at the bottom, you will have to order a new one.
As an illustration, please review the following Florida birth certificate: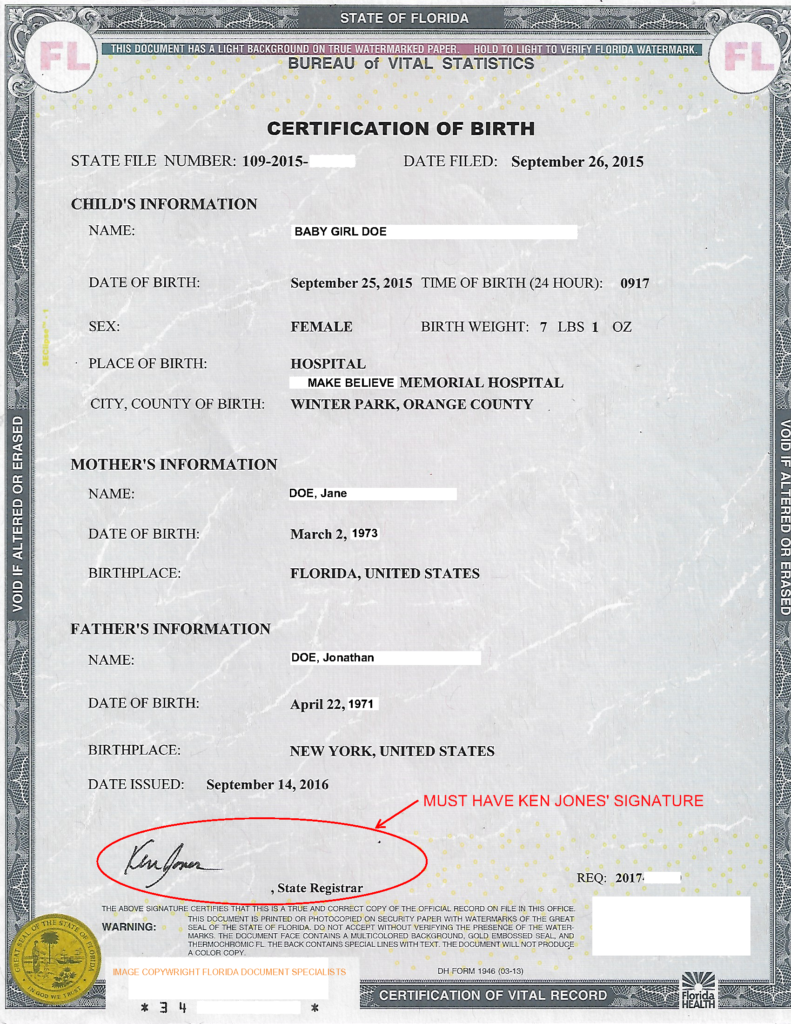 ---
Who can request a Florida birth certificate?
Births less than 100 years old are confidential and may only be issued to:
Registrant (name on the record) if of legal age (18)
Parent(s) listed on the Birth Certificate
Legal guardian (must provide guardianship papers)
Legal representative of one of the above persons (must provide documentation)
By Court Order (must provide copy of court order)
Upon receipt of registrant's death record, a birth certificate marked "Deceased" may be issued to the spouse, child, grandchild, or sibling, if of legal age. Please notate "Registrant Deceased" on the application and include a photocopy of the death certificate.
Valid photo identification is required when requesting a Florida birth certificate.  Never attempt to acquire a Florida vital record if you are not entitled to it.  Submitting a fraudulent application is a felony crime in Florida.
If your birth certificate is signed by Ken Jones, you're good to go!  If not, there are three ways to obtain a new copy.
---
Where can I obtain a Florida birth certificate?
Order from Local County Health Departments
This is probably the fastest way if you are in Florida.  You can walk into your local health department, and they will usually print one for you while you wait.  Health departments usually also provide service by mail.
---
Order Online with VitalChek
VitalChek is the only contracted vendor for the Florida Bureau of Vital Statistics, and we do not recommend using any other company.  VitalChek will deliver the birth certificate right to your door, or you can also arrange for the birth certificate to be mailed directly to us to save time.
Fees:
| | |
| --- | --- |
| $19 | Florida Bureau of Vital Statistic fee for the first computer-generated     certification (includes $9.00 search fee + $10 rush fee). Please note: Some county health departments accept VitalChek orders, and county health department fees do vary. |
| $ 7 | VitalChek process fee to verify your identity, obtain ordering information and download your request directly to the Bureau of Vital Statistics. |
| $ 4 | Additional computer-generated certification. |
UPS shipping is available for an additional fee and requires signature upon delivery. Regular mail may be selected as a shipping method for no additional cost.
---
Order from the Florida Bureau of Vital Statistics
The Florida Bureau of Vital Statistics offers walk-in or mail-in services. To save time, download and complete the forms you need. The Bureau of Vital Statistics may be reached at (904) 359-6900, ext. 9000.
DH726 Application for a Florida Birth Record (English PDF 99K)
DH726S Application for a Florida Birth Record (Spanish PDF 378K)
Fees:    A 9.00 search fee is included in all orders and is NON-REFUNDABLE.
| | |
| --- | --- |
| $ 9 | First computer-generated certification |
| $ 4 | Additional computer-generated certification |
| $14 | First photocopy certificate (same day walk-in service requires $10 rush fee, when available). |
| $ 4 | Additional photocopy certificate |
Walk-in:  1217 N Pearl Street, Jacksonville, FL 32202
Lobby hours: M-F 8:00 a.m. – 4:30 p.m.
Walk-in payments may be made in the form of cash, check, money order, Visa, and Mastercard.
Mail-in:  Florida Bureau of Vital Statistics, P.O. Box 210, Jacksonville, Fl 32231-0042
Normal processing time for computer generated birth certificates is 3 to 5 business days, not including shipping time to and from their office. Photocopy generated certificates and amended records require additional processing time.
Rush orders are given priority processing and require an additional $10 fee. Mark the outside of your envelope "RUSH".  All orders, including RUSH orders are mailed Standard U.S. Postal delivery unless a special prepaid delivery envelope is provided.
---
Vital records, including Florida birth certificates, cannot be notarized.
Unfortunately, we see this a lot.  We often receive Florida birth certificates that have been "notarized" by a "helpful" notary.  We are also asked to notarize vital records.
All things considered, a commissioned notary public in Florida should know better.  It is unlawful to notarize a vital record. if a birth certificate shows up at the Department of State in Tallahassee for an apostille with a notary stamp on it, it will be rejected.
---
How long does it take and how much does it cost to get an apostille for a birth certificate?
If you are not in a hurry, you can complete the required forms, enclose the birth certificate, and mail it to the Florida Department of State with a check for $10.  You must also include a postage-paid return envelope with your order.  The Department of State is currently taking 30-35 days to process and return apostilled documents.
---
Expedited RUSH Florida Apostille Services for Birth Certificates
If you need the apostille speedy fast, Florida Document Specialists offers an expedited RUSH apostille service that can have your apostille and birth certificate on its way back to you in 3-4 business days.  We deliver your Florida birth certificate personally to the Florida Department of State in Tallahassee, where we walk it through the various steps for you.  When we obtain your apostilled birth certificate, we will FedEx it back to you in the U.S., or to most any country in the world via FedEx or DHL.  We will include the cost of shipping on your invoice, or you may provide your own return shipping label if you wish. If you are interested in learning more about our expedited RUSH apostille service, please visit our page on our apostille services.
---
Hague and Non-Hague Countries
If the destination country for your birth certificate is a member of the 1961 Hague Convention, which most are, you only need to process the apostille with the Florida Department of State.  If your birth certificate is intended for use in a non-Hague country, like China or the UAE, you will probably require U.S. Department of State authentication and foreign embassy legalization.  This can be a confusing process.  The good news is that we are experts and can guide you every step of the way.  Make sure you confirm with the foreign officials exactly what they require.
---
Translations of Birth Certificates
Some countries require certified translations of birth certificates.    Some countries also require that the apostille cover page also be translated.
To further complicate things, still other government agencies in foreign countries require that the translation itself receive an apostille.  In this case, a notarized affidavit of translation must be attached to the translated document.
---
Make sure you know what they want!
It a good idea to have this discussion with the destination authorities.  If they need the apostille translated as well as the birth certificate, the translation will have to be made after the State of Florida issues the apostille for the birth certificate.
Fortunately, we've down this road many times We offer a certified translation service for 100 languages, which includes a notarized affidavit of certified translation.
If you have any other questions regarding Florida Apostilles or Apostilles for Birth Certificates, please pick up the phone and give us a call or send us an email.  It's always our pleasure to help.
Finally, to order an expedited apostille for a Florida birth certificate, you may use this link.
---