This article is about becoming a certified Florida remote online notary. If you're looking for a Florida online notary to notarize a document, just click on the below link:
Remote Online Notarization (RON) in Florida
Remote online notarization, or "RON" as it's commonly called,  is a 100% online notary service where documents are electronically signed and notarized online using a webcam and microphone on a computer, tablet, or smartphone.
Florida's online notary law took effect on January 1, 2020, and it forever changed the way that day-to-day notarial work is performed in the Florida.  Because of the COVID-19 pandemic that took hold a few months later, certified Florida online notaries have been thrust into the spotlight to provide vital notarial services for U.S. citizens and legal residents across Florida and around the world.
It's not difficult to become certified as a Florida remote online notary, but you do have to complete the entire certification and application process without missing any of the required steps.  Unfortunately, on purpose or otherwise, there are notaries public in Florida who are performing online notarizations who are not authorized to do so.  If your name is not on the list maintained by the Florida Department of State, you are not an authorized RON notary, and cannot perform online notarizations.  You can verify the status of a notary claiming to be an approved online notary by clicking here.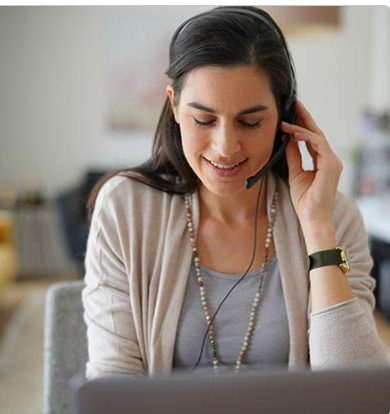 In order to become certified as a remote online notary in Florida, you must first hold a commission as a traditional Florida notary public.  Information about becoming a traditional notary public in Florida can be found on the Florida Department of State website.
How to Become a Remote Online Notary Public in Florida
STEP-1 – Take an approved 2-hour Florida Remote Online Notary Certification Course
There are a lot of organizations that offer this online notary training, and prices vary.  We recommend the $20 course offered by the Florida Land Title Association.  This was the original online notary training course, and it is still the most affordable.
Once you've completed the Florida remote online notary training course, print your certificate of completion and keep it handy.  You'll need it for the last step.
STEP-2 – Increase your Notary Bond and Obtain a Remote Online Notary (RON) Errors and Omissions Insurance Policy (E&O Policy)
The best way to complete this step is to contact the company you used to obtain your current Florida notary public commission.  You must increase your notary bond from its current $7,500 amount to $25,000.  You must also purchase an online notary E&O (Errors and Omissions) policy with at least $25,000 in coverage.  Once you receive the documents for your new bond and insurance policy, print them out and keep them with your RON certification class certificate, as you'll need them for the final step.
STEP -3 – Contract with a Remote Online Notary (RON) Technology Provider
You are required to contract with a technology provider BEFORE submitting your RON application to the State of Florida.  RON technology providers are also referred to as RON service providers or RON platforms.
To apply to be an online notary public, you must first have a contract with a company that will provide you with the technological support needed to perform online notarizations. This company must provide you with:
The technology to be used in attaching or logically associating an electronic notarial certificate, signature and seal to an electronic document;
The technology to be used in conducting identity proofing and credential analysis;
The technology to store and maintain a recording of the video and audio conference of the online notarization session.
The Florida Department of State does not recommend nor endorse any particular RON service providers.  However, we have researched and have used various online notary technology providers, and we can only recommend two.  Both of the below RON service providers will give you excellent service.  Please note that at this time, only Secured Signing is set up to allow the notarization of estate planning documents such as wills, trusts, and durable powers of attorney.  You can learn more about this niche in Florida RON services by reading our web page on the subject.
Getting set up with a RON platform is not difficult per se, but it's not something you're going to do in an hour.  You'll have to purchase a digital certificate and go through the company's onboarding procedure.  Take your time, and make sure that you understand exactly what services you are buying and how much it will cost.  After you're onboard, you'll need to schedule training to learn how to use the system.
STEP -4 – Submit your Remote Online Notary (RON) Application to the State of Florida
You're almost done!  The next step involves downloading  your application, properly completing it, and mailing it to the Florida Department of State along with your supporting documentation and a check for $10.  You'll need your Florida Notary ID and Florida Notary Commission Number off of your current Florida notary public commission in order to complete the online notary application.
Once you've completed the application, you'll need to sign and notarize it.  Yes, you can use an online notary to notarize your online notary application!  We'd be happy to help.
Once your Florida remote online notary application is signed and notarized, make out a check for $10 payable to the Florida Department of State.  Make sure you have indicated on the application which technology provider you have chosen.  Attach the $10 check, your online notary certification class certificate, evidence of your $25,000 notary bond and your $25,000 E&O policy, and mail it to:
Florida Department of State, Division of Corporations
ATTN:  Notaries
PO Box 6327 Tallahassee, FL 32314
If you're submitting your application by courier service or in person, use this address:
2415 North Monroe Street
Suite 810
Tallahassee, FL 32303
What Happens Now?
Now you wait a week or two.  You can check the official list to see if your name is on there.  You will probably make the list prior to receiving the approved RON application by mail.  As long as you're on "the list", you're good to go.  In a week or two you will get a letter from the Florida Department of State with an official recorded copy of your approved Florida online notary application.  Keep this with your RON records.
You should now focus on how to use the RON platform that you signed up with.  DocVerify and Secured Signing have great training programs, and they will help you understand how to use their systems.  Then…. start notarizing!
Don't be Discouraged
Learning how to use the technology and becoming a proficient Florida remote online notary will take some practice.  You are going to make some mistakes and mess up plenty of notarial acts, but RON will become easier each time you do it.  Soon, it will be second nature.
Stay Educated and Up to Date
The National Notary Association is a great resource for all things notary, especially remote online notarization.  There are also many benefits in becoming a member of the NNA, like their "Hotline", that you can use to speak with a notary expert when unexpected situations arise and you need help quickly.  It's very important that you always stay abreast of Florida's notary laws and best practices for our profession.
Good luck on your journey to becoming a certified Florida remote online notary public!