Streamlining the Apostille Process for a Social Security Benefit Letter: A Simplified Guide
Lots of American citizens are relocating to foreign countries such as Colombia, Ecuador, Costa Rica, etc. for various reasons.  Citizens who choose to live abroad outside their native country are called "expats".
Often, foreign embassies or consulates ask for proof from expats to verify that they have an income to support themselves. While there are various documents that can be used to prove income, the most used by far is a benefit verification letter from the social security administration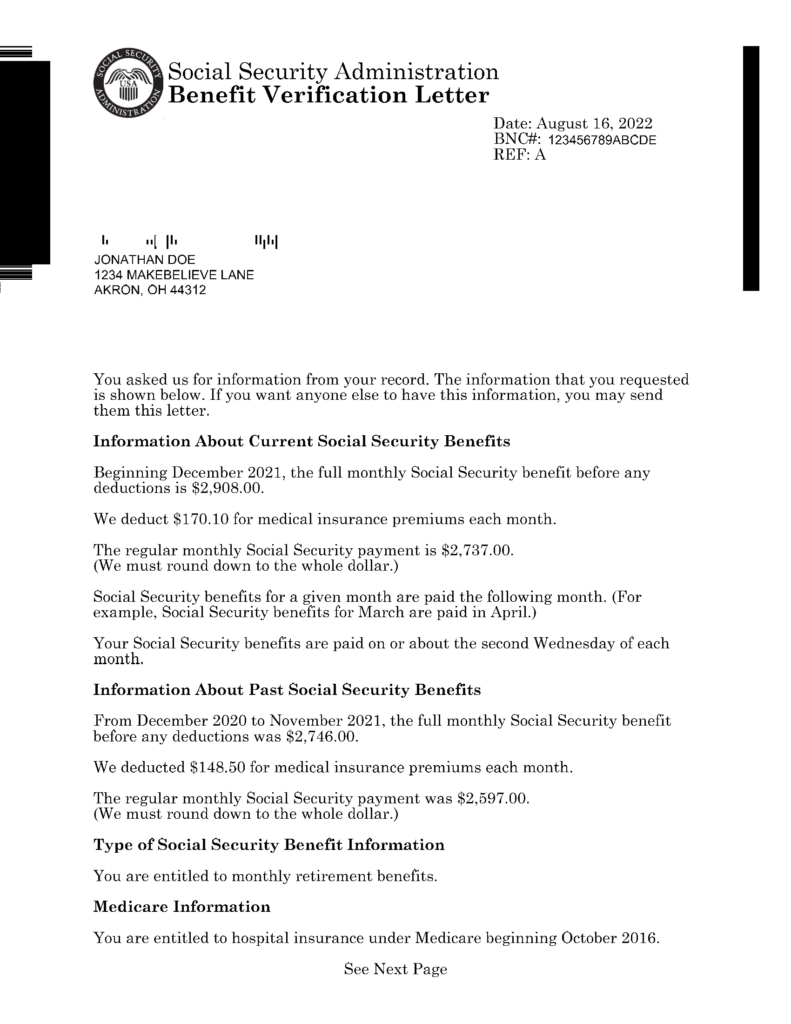 The Benefit Verification letter, sometimes called a "budget letter," a "benefits letter," a "proof of income letter," or a "proof of award letter," serves as proof of your retirement, disability, Supplemental Security Income (SSI), or Medicare benefits.  Obtaining a benefit verification letter from social security is easily done online by visiting the social security administration website.
Order an Apostille for Your Social Security Letter
Notarized True-Copy Affidavit Included
Notarized True-Copy Affidavit Included
STANDARD
< 20 Business Days
Notarized True-Copy Affidavit Included
What are the required steps?
You'll need to secure an apostille for your social security benefit verification letter. However, before this can be achieved, a notarized affidavit stating that the benefit letter is an accurate copy of the original must be attached to it.
This notarized affidavit, along with the authenticated copy of the original, is then submitted to the Florida Department of State to obtain the apostille.
Understanding the Federal Documents' Exception
Many clients often wonder if the social security benefit verification letter, being a federal document, should be sent to the U.S. Department of State. The social security letter, however, is an exception to this rule. Despite originating from a federal agency, it is not directed to the U.S. Department of State. The proper procedure instead involves acquiring the apostille from the Florida Department of State in Tallahassee.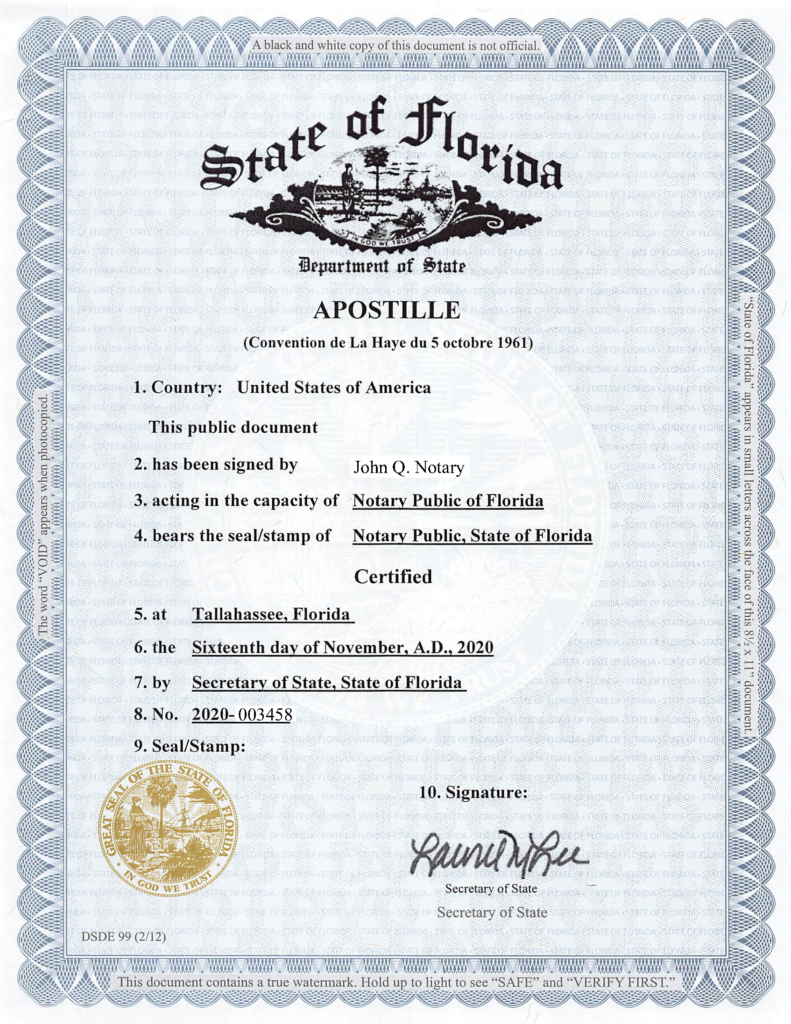 An apostille is a cover sheet issued by the department of state certifying the authenticity of the signatures and seals on a document to be used in a foreign country.
Foreign embassies or consulates usually require an apostille for any foreign document being used in their county.  One of the most common documents that people order apostille authentications for are social security benefit letters.
Getting an apostille for your social security benefit letter is a straightforward task, yet ensuring its timely and correct processing can pose a few challenges.
Nevertheless, thanks to online accessibility and our innovative notary services, we've made this task more convenient for you. The process begins when we receive a digital copy of your letter through our dedicated ordering portal. Next, we verify your identity and generate a "true copy" document that you'll sign online, thereby affirming its exact match to the original social security benefit letter.
The next step involves a brief video conference with one of our online notaries where you'll electronically sign the document. After the document receives our official notarization, we transport it to the Florida Department of State to secure the apostille. Once the apostille is granted, we promptly arrange its delivery back to you via FedEx or DHL.
The procedure described above applies to countries that are members of the Hague Convention of 1961.  If you are working with the government of a non-Hague country like China or the UAE, your process will require a few more steps.  After your social security letter is authenticated by the Florida Department of State, it will then go to the U.S. Department of State in Washington DC. After that, the document will be processed through your country's embassy or consulate.  Not to worry, we are experienced on processing apostilles and authentications for social security benefit letters for use in non-Hague countries.
What is the Timeframe to Obtain an Apostille?
If time is not a pressing issue, you can fill out the necessary forms yourself, include a notarized true copy affidavit from a Florida notary public, and send it along with a $10 check to the Florida Department of State. Don't forget to enclose a pre-paid return envelope with your order. The current processing time for apostilled documents at the Department of State is approximately 30-35 days.
If you're outside of Florida, the true copy certification must be apostilled by the Department of State where the notary public is commissioned. This is why our services have gained popularity; we provide notarization for your social security letter in Florida, irrespective of your current state or country of residence.
For those requiring a swift apostille for their social security benefit letter, Florida Document Specialists offers a quick, expedited RUSH apostille service. This service ensures that your social security benefit verification letter receives an official apostille within 2-3 business days. Our services are accessible to you regardless of whether you currently live or are physically present in Florida. We achieve this by online notarization and personally delivering your social security letter to the Florida Department of State in Tallahassee and guiding it through the necessary steps. Upon receipt of your apostilled letter, we'll return it to you anywhere in the U.S., or to most countries worldwide, via FedEx or DHL. We'll add the shipping cost to your invoice, but you're welcome to provide your own return shipping label if you prefer. If our expedited RUSH apostille service interests you, you can order from the top of this page.
Understanding Document Translation Requirements
Some countries require certified translations of social security benefit verification letters and even the apostille cover page. Sometimes, an apostille is needed for the translation itself, involving a notarized affidavit of translation.
Ensure you're aware of the exact documents required by the foreign country. They often need apostilles and translations for birth certificates and FBI background checks as well.
We provide certified translations for 95 languages, including a notarized affidavit of translation.
For further assistance or to start the apostille process for a social security benefit verification letter, contact us or place an order at the top of this page from within the main order form.
Questions First? Contact Us:
Frequently Asked Questions (FAQ)
What is a Florida Apostille?

An apostille, simply put, is a cover page.  This cover page serves as the authentication by the Florida Department of State of the seals and signatures on a document intended for use in a foreign country.   Florida does not issue digital apostilles, so a certificate will be physically attached to your documents.

An apostille is a certificate that authenticates the origin of a public document, making it legally recognized in all countries participating in the 1961 Hague Convention Abolishing the Requirement of Legalization for Foreign Public Documents.

The Florida Department of State will only apostille the following types of documents:

Original paper documents notarized by a Florida notary public.  The document must have an original wet signature and notarial stamp.

Documents notarized online by a certified Florida remote online notary (RON); and

Certified and/or recordable documents issued by the State of Florida or Florida county governments.  Examples: Florida birth and death certificates, articles of incorporation, certificates of status, corporate and LLC articles or annual reports, divorce decrees, single status affidavits, etc.

How much does a Florida apostille cost?

Our prices are posted on our webpage.

How do your prices for Florida apostilles compare to your competitors?

We're glad you asked.  We offer unparalleled transparency and fairness in pricing that makes us different from others, especially non-Florida companies that use misleading ads to bait and switch.

How do I pay for your services?

Once we receive your order, we will email you a detailed invoice that you can pay with your credit/debit card or with your checking account using ACH.

Credit and Debit Cards Accepted

Why do I need a Florida apostille for my document(s)?

If you intend to use a Florida-issued public document in another country that is part of the Hague Apostille Convention, you need an apostille to authenticate the document and facilitate its acceptance abroad.

What is the difference between "Hague" and "Non-Hague" countries?

Countries that are participants in the 1961 Hague Convention have agreed to accept an apostille cover sheet as the only authentication required for a document to be used in their country.  The apostille is issued by the Secretary of State in the state of the document's origination.

For a federal document such as an FBI background check or a social security benefit verification letter, the apostille is issued by the U.S. Department of State in Washington D.C..

Can you help with authentications for "Non-Hague" countries?

Yes. Instead of the simplified "one-step" apostille process for Hague countries, you will typically require a 4-step process to authenticate your documents:

The document must be properly notarized.

Authentication by the Secretary of State.

Authentication by the U.S. Department of State in Washington, DC; and

Legalized at the embassy/consulate of the destination country.

Unfortunately, there is no way to expedite or rush a U.S. Department of State authentication.  As of March 2023, the average turnaround time is 10-14 weeks.  Please plan accordingly.

How do you pronounce the word "apostille", and what does it mean?

It is pronounced "Ahh Poh Steel".  It is a French word that translates to "Certification".

Can I apostille a document for use in the United States?

No, an apostille is only for a document intended for use in a foreign country.

What if I have a federal document, like an FBI Background Check?

Federal documents such as FBI background checks cannot be apostilled by the Florida Department of State.

Instead, we will process them for you with the United States Department of State in Washington, DC.  We have written a guide on how to apostille an FBI background check.

Although a benefit verification letter from the Social Security Administration is a federal document, it is an exception to the requirement for a federal apostille.  The correct procedure is to attach it to a notarized true copy affidavit and process it through the Florida Department of State for an apostille.

We can manage the entire process for you.  You can read our blog post on the subject to learn more.

How do I receive my apostilled documents?  Can you ship internationally to save some time?

Yes, we will ship your Florida apostilled documents back to you in the United States or anywhere in the world.  We use FedEx Priority International and DHL Express International.

Carriers are not currently shipping to Russia, Ukraine, or Belarus.

For domestic shipping, you can choose between FedEx Express Overnight or FedEx 2-Day service.

Which courier service should I use for return shipping?

You are welcome to use your own prepaid shipping label.

If you would like us to handle your shipping, we will include the cost of FedEx or DHL on your invoice and provide you with a tracking number.

FedEx is undeniably more expensive than DHL.  FedEx accommodates evening pickups, so your documents will go out the same day we receive them from the Department of State.

 

 

 

DHL is usually the least expensive shipping option and is considered the industry leader in international document shipping.  However, because they won't accept shipments after 2pm ET, your documents will be delayed by an additional business day as compared to FedEx.

In either case, each carrier is dependable and will get your documents to where they need to go.

For domestic return shipping, you can choose between FedEx Express Overnight or FedEx 2-Day service.

My documents were not notarized in Florida, can I still get a Florida apostille?

Unfortunately, no.  If you are seeking Florida apostilles for notarized documents, the notarization must be from a Florida notary public.  We have a lot of customers who use our remote online notarization (RON) service for just this reason.  For example, if you are in California and need a copy of your passport notarized and apostilled quickly, Florida Document Specialists can notarize your document online and immediately process your apostille without you having to FedEx anything to us.  You'll receive your notarized and apostilled passport copy in just a few days.

Suggestion:

If you have already signed and notarized your documents in a state other than Florida, have you considered having them re-notarized in Florida?  If the nature of the documents permit, we can remove the signatures and out-of-state notary seals, and you can sign them again with one of our friendly online notaries.  This "work-around" has saved many customers time, money, and frustration.

If I have certified copies of birth certificates (or death certificates), they should be good to go for apostille, right?

Maybe. 

Only vital records that are signed by the current state registrar, Ken Jones, are accepted for apostille.  If you have an older certified copy of a vital record, you will need to get a fresh one.

If your certificate is from another state, it cannot receive a Florida apostille.  Vital records from other states must be apostilled in the state where they were issued.  If you need to order updated Florida vital records, you can visit your local health department or order online at VitalCheck.  Learn more about apostilles for Florida Birth Certificates here.

 

I have been told that I need my birth certificate, passport, and something called a "Single Status Certificate" apostilled for my destination wedding.  Can you help with this?

It's actually our most popular request, and we're happy to help.  You don't need that kind of stress while you're planning your destination wedding!

I am planning to teach or attend school in another country. I need an apostille for my teaching certificate, college diplomas, and school transcripts.  Can you help?

Yes, but Florida has extremely tricky rules regarding these types of documents.  Procedures vary between public and private schools.  Fortunately for you, we are experts at this and will be happy to guide you.

Can I un-staple the apostille cover sheet from the original document and attach it to a copy?

No.  It is unlawful for you to remove the staple.  Once an apostille cover sheet is stapled to a document, it is intended to stay there forever.  Some foreign authorities carefully inspect the documents for double staple holes.  If they are found, your document may be rejected.

Don't mess with the staple!

Does an apostille cover sheet expire?

No.  However, we have seen foreign countries reject a document because they have deemed that the apostille is too old.  It is always best to use your apostille as soon as possible or check with your foreign authorities.

Why is Florida Document Specialists your best choice for apostille services?

⦁ Florida Document Specialists is a Florida corporation in good standing with offices in Tallahassee and Daytona Beach, which means we know Florida and can provide one-on-one customer service.

⦁ We take pride in doing fantastic work for our clients.

⦁ We offer live chat support on our website and real phone support during business hours.

⦁ We offer a pre-screening review of your documents to identify common mistakes before you pay, saving you time and money and reducing the possibility of document rejection.

⦁ We specialize in Florida apostilles and documents requiring U.S. Department of State authentication and embassy legalization.

⦁ We are the only Florida apostille service that is accredited and A+ rated by the Better Business Bureau (BBB).

⦁ Our family-owned and operated business has been serving clients since 2014.

⦁ Our apostille coordinator was selected by the National Notary Association as the 2021 Notary of the Year.

⦁ We have in-house, certified, Florida remote online notaries to assist with your notarization needs.

⦁ We operate by a code of ethics to ensure the highest level of professionalism and integrity in our work.

⦁ Our fee structure is fair and affordable without any bait-and-switch pricing found elsewhere.

Which types of documents commonly need a Florida apostille?

Corporate Documents

Power of Attorney

Affidavits

Secretary Certificates

Florida Articles of Incorporation

Florida Certificate of Formation

Florida Certificate of Good Standing

Florida LLC or Corporate Certificate of Status

LLC Articles of Organization

Certificates of Origin

Hiring Documents

Company Invoices

Identity Documents of Corporate Executives (Passport, Driver License)

ISO Certificate

Other Business Documents

Personal Documents

Social Security Benefit Verification Letters

Documents for Destination Weddings

Teaching Certificates (Educator Certificates)

Final Judgements

Passport Copies

Driver License Copies

FDLE Criminal History Background Checks

FBI Criminal Background Checks

Divorce Decrees

Affidavit of Single Status

Adoption Documents

Marriage Certificate/License

Florida Birth Certificates

Florida Death Certificates

Wills

Naturalization Certificate

Car Titles

Authorization Letter

Statements – Bank/Utilities

Consent to Travel

Official Records

Other Personal Documents

Academic Documents

School Transcripts and Diplomas for Florida Public Schools

Scholl Transcripts and Diplomas for Florida Private Schools

College Diplomas and Certificates

GED

High School Records

Report Cards

Teaching Certificate

Other School Records

Which documents are eligible for a Florida apostille?

Florida-issued documents eligible for apostille include birth certificates, marriage certificates, death certificates, diplomas, transcripts, documents notarized in Florida, court records, and corporate documents.

What is the processing time for a Florida apostille?

The standard processing time is around 30 days for orders mailed directly to the Florida Department of State.

Our expedited services can have your apostille on the way back to you in 2-3 business days.

Can I obtain an apostille for a document issued in another state?

No, you must obtain an apostille from the state where the document was issued. Each state has its own procedures for apostille services.

We are expaning our apostille services to other states.  Please inquire if we service the state that you need.

Can I submit my documents in person?

Yes, you can submit your documents in person at the Florida Department of State, Division of Corporations office in Tallahassee.

What if my document is in a language other than English?

As long as the notarial language is in English, there are no issues with foreign language documents.

Can I obtain a Florida apostille for a notarized document?

Yes, notarized documents are eligible for apostille if notarized by a Florida notary. Ensure that the notary public's commission is valid and that the notarial act complies with Florida law.