Obtaining an Apostille for A Social Security Benefit Letter or Proof of Income Letter
---

---
Lots of American citizens are relocating to foreign countries such as Ecuador, Costa Rica, etc. for various reasons.  Citizens who choose to live abroad outside their native country are called "expats".
Often, foreign embassies or consulates ask for proof from expats to verify that they have an income to support themselves. While there are various documents that can be used to prove income, the most used by far is a benefit verification letter from the social security administration.
The Benefit Verification letter, sometimes called a "budget letter," a "benefits letter," a "proof of income letter," or a "proof of award letter," serves as proof of your retirement, disability, Supplemental Security Income (SSI), or Medicare benefits.  Obtaining a benefit verification letter from social security is easily done online by visiting the social security administration website.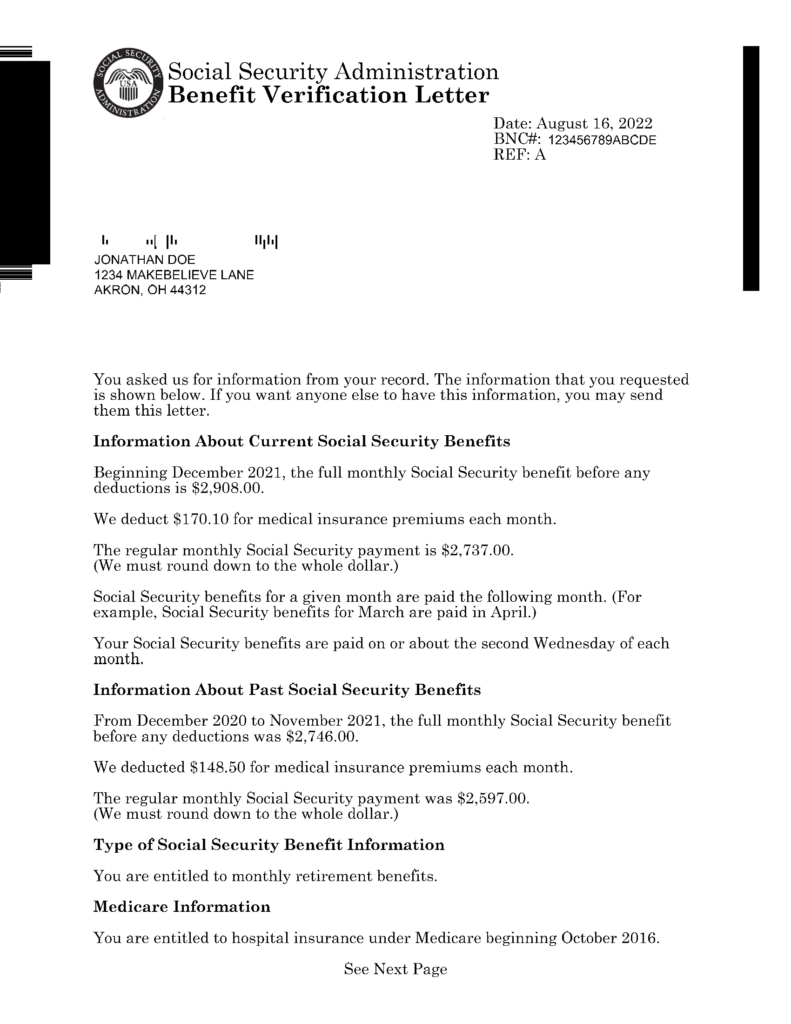 ---
What is an apostille?
An apostille is a cover sheet issued by the department of state certifying the authenticity of the signatures and seals on a document to be used in a foreign country.
Foreign embassies or consulates usually require an apostille for any foreign document being used in their county.  One of the most common documents that people order apostille authentications for are social security benefit letters.
---
How to Get an Apostille for a Social Security Benefit Letter
Getting an apostille for a social security benefit letter is easy.  Getting the apostille done quickly and correctly is a little more challenging.
Using email and advanced online notary technology, we can receive a copy of your letter, verify your identity, and produce a "true copy certification" of your social security letter. We will notarize it as a certified true copy and deliver it to the department of state for apostille certification.  Once the apostille is issued, we will FedEx or DHL it back to you.
---
Non-Hague Countries
The procedure described above applies to countries that are members of the Hague Convention of 1961.  If you are working with the government of a non-Hague country like China or the UAE, your process will require a few more steps.  After your social security letter is authenticated by the Florida Department of State, it will then go to the U.S. Department of State in Washington DC. After that, the document will be processed through your country's embassy or consulate.  Not to worry, we are experienced on processing apostilles and authentications for social security benefit letters for use in non-Hague countries.
---
How long does it take to get an apostille for a social security benefit letter?
If you are not in a hurry, you can complete the required forms, enclose a notarized true copy affidavit from a Florida notary public, and mail it to the Florida Department of State with a check for $10.  You must also include a postage-paid return envelope with your order.  The Department of State is currently taking 30-35 days to process and return apostilled documents.
If you are not in Florida, the true copy certification will need to be apostilled by the department of state in the state where the notary public is commissioned.  One of the reasons our services are so popular, is that we will notarize your social security letter in Florida regardless of what state or country you are currently in.
If you need the apostille for your social security benefit letter fast, Florida Document Specialists offers an expedited RUSH apostille service that can have your apostilled social security benefits letter on its way back to you in 3-4 business days.  You don't have to have lived in Florida or be in Florida to use our services.  We do this by taking your social security letter personally to the Florida Department of State in Tallahassee, where we walk it through the various steps for you.  When we obtain your apostilled letter, we will FedEx it back to you in the U.S., or to most any country in the world via FedEx or DHL.  We will include the cost of shipping on your invoice, or you may provide your own return shipping label if you wish. If you are interested in learning more about our expedited RUSH apostille service, please visit our page on our apostille services.
---
Document Translation
Some countries require certified translations of social security benefit verification letters.  Some countries also require that the apostille cover page be translated also.
To further complicate things, sometimes foreign countries require that the translation itself receive an apostille.  In this case, a notarized affidavit of translation must be attached to the translated document.
It's important to know exactly what documents the foreign country needs before you start ordering apostilles.  Often, the foreign country also needs apostilles and translations for birth certificates and FBI criminal background checks.
We offer a certified translation service for 95 languages, which includes a notarized affidavit of certified translation.
If you have any other questions about getting an apostille for a social security benefit verification letter, feel free to email, text, or call us.  We'd be happy to help.
To order an apostille for a social security benefit verification letter, use our easy online order form.
---