Rejected!
That's what will happen if you submit an apostille order to the Florida Department of State that has notarial errors.  Here we will discuss the most common mistakes that are made that cause apostilles request to be rejected.
---
Notarial Errors
The most common reason for rejection, by far, are mistakes made by the notary public who notarized your document(s).  You are probably not going to notice the mistake(s), because you are not a trained notary.
Notaries public in Florida are governed by Florida Statutes Chapter 117, which contains the rules that notaries must follow.  Most notaries are conscientious professionals and follow the rules to the letter.   Unfortunately, there are notaries who are not trained well.  An incompetent notary can produce substandard work for months or years without being questioned.   A competent notary can make occasional mistakes too.  One thing you can count on, the Florida Department of State will reject any document for apostille that has mistakes in the notarial act.  Here are some of the more common mistakes made by notaries:
Florida notaries are permitted to perform oaths and acknowledgements and to certify certain photocopies.  You would be surprised at the "designer language" that notaries sometimes use in their notarial blocks or fail to recognize an unlawful notarial block on a pre-printed form.
One common mistake is something called, "signature witnessing".   While some states allow it, Florida does not.   For example, if the language in a notarial block says…
"I, Jane Q. Notary, did witness Jonathan Doe sign this document on the 12th day of May 2021", it is an unlawful notarial act.  This is not an oath or an acknowledgement.
Sample notarial language is provided in the Florida statutes.  We also have a webpage that explains proper notarial language.
Outdated Notarial Language
In January 2020, contemporaneous with the legalization of remote online notarization (RON) in Florida, the state modified the language that Florida notaries must use in their oaths and acknowledgements.  Some notaries didn't get the memo.  While it may not seem important, the Florida Department of State will not issue an apostille if the 2020 changes are not a part of the notarial language on the document.  Some of the biggest offenders are forms created by state and local governments that have yet to be updated.
Apostilles aside, the obsolete language being used by some Florida notaries invalidates documents such as wills and powers of attorney.  It could be a really, really, big deal.
The state and county that the notarial act was performed in must be a part of the notarial language.
Notary Block (Acknowledgement or Jurat) not in English
A Florida notary may notarize a foreign language document, but the notarial language must be in the English.
Failing to Check Required Boxes or Note Required Information
Current notarial language must specify whether the notarization took place in the physical presence of the notary or if the notary was perfomed by online notarization.  Most pre-printed forms have a checkbox before the two choices.  If the proper box is not checked, the notarial act is invalid.
Proper identification must be presented to the notary, or the notary must personally know the signer.  If the proper boxes aren't checked in the notarial block, and the type of identification is not noted, the notarial act is not valid.
Online Notarization by Non-Certified Notaries
There are notaries performing their version of "remote online notarization" in Florida who are not authorized to do so.  Not only are these documents worthless, they will be rejected by the Florida Department of State if they are submitted for apostille.  Only certified Florida online notaries may perform notarizations using audio/video technology.
---
Apostilles for School Transcripts and Records
Requests for apostilles of Florida school records and transcripts are often rejected, because the school and/or the notary public did not follow proper procedures.
While it's true that Florida notaries public are authorized to make certified photocopies of various documents, school transcripts are one of the exceptions.   The State of Florida classifies high school, college, and university transcripts as public records.  This means that a notary public is not permitted to make a photocopy of the original.
Below is an example of a properly formatted certified school transcript.  The registrar or authorized person must be placed under oath and sign the transcript in the presence of a notary public.  It's best practice to use blue ink.  After the document is signed, the notary must also sign and stamp the document.   This original document is then acceptable for a Florida apostille.
---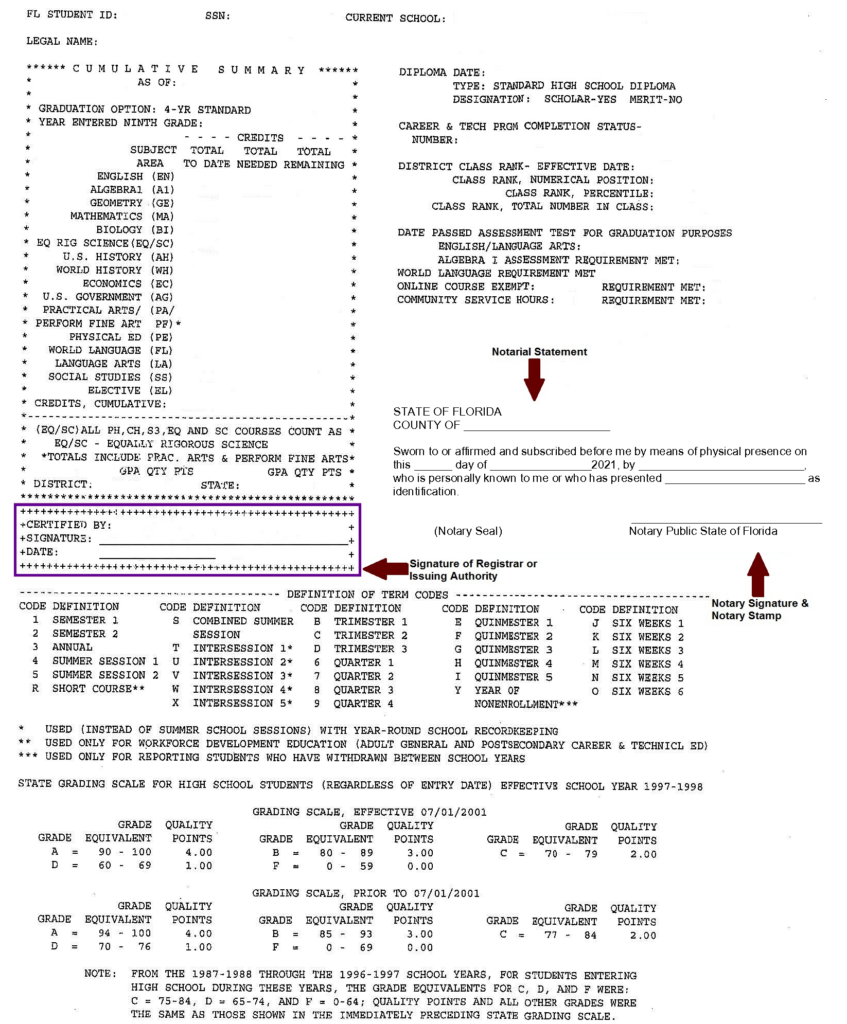 ---
Notaries Improperly Copying and Attesting to Public Documents
According to Florida notary law, copies of public records, such as the records listed below, CANNOT be attested to by a Florida Notary Public:
Any document for which photocopying is prohibited;
Birth Certificates;
Certificate of Citizenship or Naturalization;
Death Certificates;
Documents filed in a court proceeding;
Documents recorded by the Clerk of the Court;
Federal or state income tax forms, already filed;
Marriage Certificates;
Professional licenses issued by the State of Florida;
Public records maintained in government offices; and
Student records (transcripts, etc.) kept in public education offices.
---