Remote Online Notarization FAQ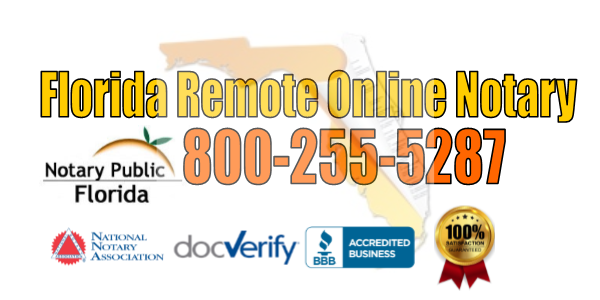 What is Remote Online Notarization?  (RON)

Remote online notarization, or "RON" as it's commonly called,  is a 100% online notary service where documents can be signed and notarized on the Internet using your webcam and microphone.  Only a specially trained and certified online notary public can perform online notarizations in Florida.
How much does it cost?
For standard service, our fee is $25 for the first notary seal per principal signer/per session.  Subsequent notary seals during the same session are discounted to $23 each.  If your document(s) requires witnesses, we can supply them for $25 per witness per online session.
An optional Priority-Rush service is available for $30, which will guarantee priority handling, after hours appointments, and appointments on weekends and most holidays.
If you have a large project (10 or more notarial seals per session), please contact us to discuss pricing.
Our company has a need for ongoing online notarizations, can we negotiate volume pricing?
Yes, we can customize a pricing package for you to meet your business needs without a monthly fee or contract.  Please call to discuss.
What are your hours of operation?
Our hours of operation are 9am – 5pm eastern time Monday through Friday.  We offer an optional Priority-Rush notary service that can accommodate your online notary needs after hours, on weekends, and on most holidays.
When will my notarized document(s) be available?
You will receive you notarized documents immediately by email.
What sets your company apart from the rest?
Florida Document Specialists is the premier online notary provider in the State of Florida.  We are a Florida corporation, and our notaries are full time employees all operating in the State of Florida.  Our notaries are highly trained and experienced in online notarization.  Unlike most other online notary services, we are not a call-center playing the middleman.  We are accredited,  A+ rated, and 5-star reviewed by the Central Florida Better Business Bureau (BBB).  We contract with the world's premier online notarization technology provider, DocVerify, which means that we have capabilities that exceed that of our competitors, i.e. conferencing multiple signers into a single video session and seamlessly providing online witnesses.  We have extensive document editing capabilities at our disposal to assist you.  We are bonded and insured.  We are very reachable, and we provide free telephone support.  You can actually speak or text directly with your online notary. Read more about our value added services.
What is an online notary call-center?
An online notary "call center" operation is where a non-notary company builds a website and then recruits inexperienced notaries from around the country to sign up to make extra money.  Since the company itself is just the "middleman", the focus is on volume and not quality.  Companies that follow this model typically lure customers with an attractive rate only to "match" them with inexperienced subcontractors.  The subcontract notaries are not vetted, and many produce unsatisfactory work.  If you ever need to contact the actually notary you were matched with, you won't have much luck, as these call centers typically don't have a phone number.  We are constantly re-doing online notarizations that are butchered by the call centers.
What are the minimum system requirements to use remote online notarization (RON)?
When using remote online notarization, you must meet our minimum qualifications.  It is important that you use  a supported web browser that can access your webcam and microphone.  Here is a list of supported browsers.
Operating Systems and Browsers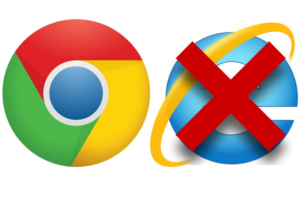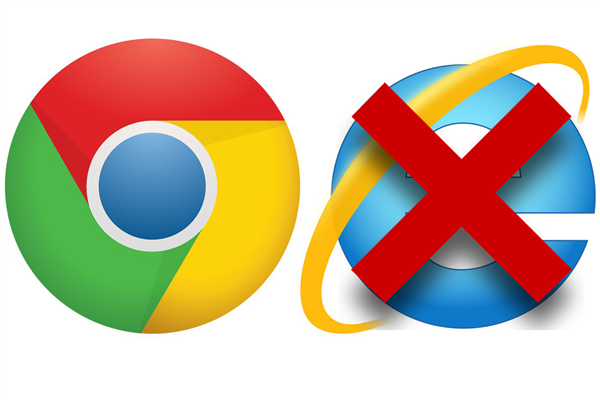 Windows PC
Google Chrome – Version 30 or higher

FireFox – Version 24 or higher\

Opera – Latest Version
Mac (Sierra or above)
Google Chrome (Latest Version)

Firefox (Latest Version)
Android (Phones and Tablets)
Google Chrome – Latest Version
iOS (iPAD and iPHONE)
iOS 11 or higher (Operating System)

Safari or Google Chrome Browser
These web browsers will not work:
Internet Explorer
Microsoft Edge 
Do you have a Spanish speaking remote online notary public?
Sí. Hablamos Español.
So, I don't have to physically appear before the online notary?



That's right.  You don't have to physically appear before a notary, but you do have to appear by video.  You can be anywhere in the world as long as you meet the minimum requirements and have a reliable, high-speed Internet connection.
Do I have to be in Florida or be a Florida resident to have my documents notarized online?
No, it doesn't matter where you are in the world as long as you meet all of the requirements for RON.  This virtually eliminates the need to use a Florida mobile notary.   Florida mobile notaries charge for travel time and mileage as well as the notarial acts they perform.  Using Florida Document Specialists' remote online notarization service allows you to have your documents notarized in the privacy and comfort of your own home or office.
Do you charge extra for international online notarizations?
No.  While many online notary providers do, we do not charge extra for international notarizations.
How long does it take?
After the actual online notary session begins, it only takes a few minutes.  The COVID-19 pandemic is keeping our online notaries very busy, so please be patient after you submit your documents as you await your turn.  If you have an emergency or need a document notarized on the weekends or after business hours, we offer an optional Priority Rush Service that will afford you white-glove treatment.
Is Remote Online Notarization safe and secure?
Yes, it's more secure than traditional paper notarizations and is designed to detect identity fraud.  We contract with technology provider DocVerify,  which satisfies Florida's strict remote online notary law.  Beware of Florida notaries operating illegally. Each notarial session is audio/video recorded and retained for 10-years.  Every signer's driver license is analyzed for authenticity, and their identity is further authenticated using a system known as, "Knowledge Based Authentication", or KBA.  Click here to to learn about RON privacy issues.
There are other types of notary fraud that you should be aware of.
What is a notarial act?  Does my document need specific notary language?
Most documents presented to an online notary public already have a notary block containing the wording that makes it clear to the online notary which notarial act is required.  The two most common acts that an online notary public performs are oaths and acknowledgements.  If you submit a document to us for notarization without proper notarial language, your online notary is going to ask you which notarial act you want performed.  If you do not know, the notary cannot make the choice for you, but we help you research your options.
Can I use FaceTime, Zoom, Facebook, Skype, or Whatsapp for remote online notarization?
It's a common question, but no.  Only technology providers approved by the State of Florida are authorized.  We partner with the world's premier remote online notary platform, DocVerify, which is part of Black Knight.
I've been told that I need a, "wet" signature, or my document will not be accepted.  Can you help?
No.  Florida online notarizations are done completely online, and all signatures are electronic.  There is no way to combine elements of a traditional notary with RON.  These requests are mostly due to title companies and other organizations being ignorant of remote notary laws, or simply refusing to embrace this legal and secure technology.  The State of Florida makes it clear that any document that can be notarized by a traditional in-person notary can be notarized by an online notary.
Is there an official record of the online notary session?
Yes, all RON sessions are audio-video recorded, and the recordings are kept for ten years.  Our notaries are also required to keep a detailed notary journal of all remote online notary transactions.
Do you have to be a United States Citizen to use online notarization?
You must be a U.S. citizen or a legal resident with a social security number and a U.S. credit history of at least 3-5 years.  Only U.S. state-issued driver licenses or ID cards are accepted as identification.   Although a passport can be used for identification with a traditional, in-person notary, the online system is not set up to validate passports for RON.
Will I have to provide my social security number? 
Only the last 4 digits.
What does my credit history have to do with online notarization?
Florida law requires that your identification be authenticated.   Lexus-Nexus provides this service.  If you don't have an established credit history in the United States, the required 5-question test for the Knowledge-Based Authentication (KBA) part of the process cannot be generated.
One of the requirements to use RON is to have a working mobile phone from a major U.S. based carrier.  Why?
It has to do with the laws guiding ID verification processes for U.S. Citizens.  It's similar to to why PayPal, banks, etc., do not open accounts created with phone numbers that are not registered with a U.S. phone service provider.  In addition, it helps to generate questions for the KBA test, as participants' phone numbers usually relate to their credit histories and address in some way.
What documents can be notarized using a remote online notary?
Generally speaking, any document that can be notarized by a traditional in-person notary can be notarized by means of online notarization.
What about notarizing a will or a trust using remote online notarization?
Starting January 1, 2021, Florida Document Specialists will begin notarizing Florida electronic wills using online notarization and provide the services of a Florida qualified custodian of electronic wills.  Do not submit wills for online notarization from this page.  Use our online notary for Florida electronic wills page.
Will you notarize a durable general power of attorney via RON?
Yes, but only within our company policy.  Please read our policy on notarizing a durable power of attorney by remote online notarization.  We also offer nonlawyer document preparation service if you need a durable power of attorney prepared for you.
Can we get married online using remote notarization?
No.  Florida specifically prohibits a remote online notary to perform online marriage ceremonies.
Some documents require witnesses, i.e. warranty deeds, quit claim deeds, adoption consents, etc.  Can documents such as these be notarized by an online notary?
Yes, and we can provide witnesses.
Can you use online notarization for documents that require two principal signatures, such as marital settlement agreements, joint petitions, deeds, etc.?
Yes, our online notary system supports two signers and two witnesses simultaneously.
Do my documents have to be, "Florida documents" to use an e-notary?
No.  We can notarize documents online that have no association with Florida.
Besides the notary page, there are places on my documents that need electronic signatures and initials.  Can you handle this?
Yes, your online notary can set up your documents for electronic signatures and initials.
Can you notarize my documents online after hours, on weekends, or on holidays?  Do you provide an emergency notary service?
We offer an optional Priority-Rush service for these situations.  You can select this option when you complete our RON intake questionnaire.
What's the best way to start the process of getting a document notarized?
All requests for online notarization start by submitting document(s) via our online notary portal.
Can your company provide online witnesses too?
Yes.  We can supply up to two witnesses.
Can I supply my own witnesses?
Yes, but each witness must pre-qualify the same as the principal signer(s), and each witness must have a unique email address and their own device with an operating webcam and microphone.  Unless you have specific reasons to use your own witnesses, things usually go smoother when you use the witnesses we provide.  There is no difference in price.
I need a Florida apostille on my document.  Does it have to be notarized by a Florida online remote notary, or can I use one of the nationwide services?
The Florida Secretary of State is the only competent authority authorized to issue  notarial and apostille certifications in the state of Florida, and the remote online notary must be a commissioned Florida notary and be physically located within the State of Florida during the remote online notary session.  We provide a complete end-to-end Florida apostille service.  Please contact us for details.  We can also help process Florida notarial certifications for non-Hague 1961 countries.
Can I submit a blank document or just the signature page for online notarization?
No.  You must properly complete your forms and documents prior to submitting them.
Can you mail the,"originals" to me?
No, because there is nothing to mail.  Remote notarization in Florida is a 100% online system.  Each time you print a copy of your notarized document, it is an original.