Fraud is Rampant
---
It's sad, but there are a lot of scammers in the world.  One way that scammers try to steal from you is by preparing and recording fraudulent deeds.  Imagine finding out one day that a stranger owns your house.
Because we offer the exact services that are attractive to criminals, we have implemented a policy that requires every person who orders deed work from our company to verify their identity through a state-of-the-art screening process.
---
ComplyCube
We utilize the services of ComplyCube, a leading platform for automating Identity Verification (IDV) and Know Your Customer (KYC) compliance workflows.  As far as we know, we are the only company in the industry that applies this screening to deed preparation and recording services.
---
Who gets screened?
The property owner(s) prior to signing, notarization, and eRecording; and
Any family member or friend requesting the preparation of a deed on behalf of another person.
---
What do we screen for?
Each person involved in the ordering, execution, and recording of a deed is screened for:
Identity and ID Document Analysis
Analysis of ID credentials;
Comparision of ID photo with a selfie video to verify that it is a live person; and
Spoofed image analysis.
In addition, each person's name is checked against the following international databases:
---
Video/Audio Recording and Archiving
Every online execution (remote notarization) of a deed is video and audio recorded.  We store this data securely for a minumum of ten years.
---
How long does all of this take?
Although it sounds complicated, it typically takes a person less that five minutes to complete the screening.  We'll email you a link, and your are walked though the process on your smartphone or tablet.
---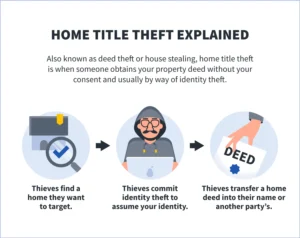 ---