Making a Last Will is Important
The process of contemplating and drafting a Last Will and Testament might not be a pleasant task, but it's an invaluable step in ensuring your peace of mind and the security of your loved ones.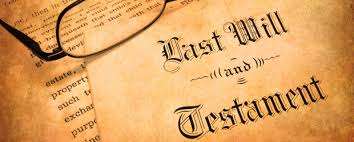 This essential document doesn't merely serve an administrative purpose; it carries the profound task of preserving your legacy, ensuring clarity on the allocation of your assets and final bequests to the people you care about the most.
Your Last Will: The Guiding Light During Probate
Think of a Will as a lighthouse guiding a ship through foggy waters. It's the beacon of clarity for the court during the otherwise complex probate process. It's a direct communication from you, ensuring your wishes – not arbitrary government guidelines – dictate the course of your estate's distribution.
Hassle-Free Last Will & Testament Preparation at Florida Document Specialists
At Florida Document Specialists, we understand the importance of a well-drafted will and aim to make this process as seamless and stress-free as possible. For a straightforward fee of $149, we will create your personalized Last Will and Testament, witnessed and validated by a notary public. You'll leave our office in Daytona Beach armed with a fully-executed, self-proving Last Will and Testament, granting you the peace of mind that comes from knowing your wishes will be honored.
Digital Solutions: Florida Electronic Wills
In an increasingly digital world, are you considering options for electronic wills? We've got you covered. We not only facilitate the preparation of electronic wills, but we also provide the necessary witnesses and qualified custodian services. For a full understanding of our digital will services and what they entail, make sure to visit our dedicated page about Florida electronic wills.
Maximize Your Savings with Our Document Preparation Bundles
In addition to the crafting of simple wills, we at Florida Document Specialists are delighted to offer a range of comprehensive document preparation bundles. These bundles are designed to cater to your varied needs, extending beyond your Last Will and Testament to include crucial documents such as a Durable Power of Attorney, Advance Directive, HIPAA Waiver, and Lady Bird Deeds.
The thoughtfully curated document preparation bundles ensure that all your estate planning needs are covered in a holistic manner, ensuring a seamless and comprehensive approach to secure your future. What's more, these bundles are priced more affordably than when services are purchased individually, making this a smart choice for those who seek both complete coverage and excellent value.
Extra Savings for Couples
At Florida Document Specialists, we recognize the unique needs of married couples in estate planning. Thus, we offer additional discounts to couples availing our document preparation bundles. This means that not only can you secure your future together, but you can also do so while enjoying significant savings.
We're committed to providing excellent service that suits your individual needs, and we believe our document preparation bundles do just that. Choose us for a holistic, affordable, and efficient approach to document preparation and estate planning. Secure your legacy with Florida Document Specialists today.
Do You Require Legal Advice?
As you consider the intricate details of your Last Will and Testament, you might find yourself in need of legal advice. We would love to be of assistance, but we must clarify that we're not a law firm. Consequently, we cannot provide any legal advice. At Florida Document Specialists, our mission is to assist you with the preparation of legal documents, not legal consultation. We highly recommend that you consult with a licensed attorney for any legal questions you may have.